How might I improve the process of requesting roadside assistance to better suit the mental state of a stranded driver?
I interviewed with Verizon Connect (formerly Verizon Telematics) for a UX Designer position (SPOILER ALERT: I was offered the position!). Verizon Connect is a division within Verizon that creates connected-vehicle products to consumers and businesses. As part of their interview process, I was asked to design a mobile app for roadside assistance. For my solution, I focused on trying to reduce drivers' sense of anxiety when requesting a roadside assistance service by providing "escape hatches" and through the design of a simple question-and-answer style UI.
Understanding the problem
The design challenge was pretty loosely defined, which made things more difficult considering the time constraint (about 2 days). For this reason, I knew that I would be relying a lot on assumptions and my own intuition, but I also knew that it was important to understand who I would be designing for, what kinds of problems they currently face, and how they presently solve those problems.
Secondary research
I started off by quickly reviewing lots of difference case studies, white papers, and surveys on roadside assistance services and driver behaviors in order to understand the current landscape. Based on what I read, I came away with a few key findings:
1. 95 percent of drivers across the United States have experienced a disabled or un-drivable vehicle on at least one occasion.
2. The most common cause of roadside breakdowns is flat tires (74%).
3. Younger drivers aged 18-29 are the most likely group to have experienced an incident within the past year (73%).
Survey
I also sent out a survey on the subreddit r/SampleSize to get a better idea of the types of considerations people make when they request roadside assistance.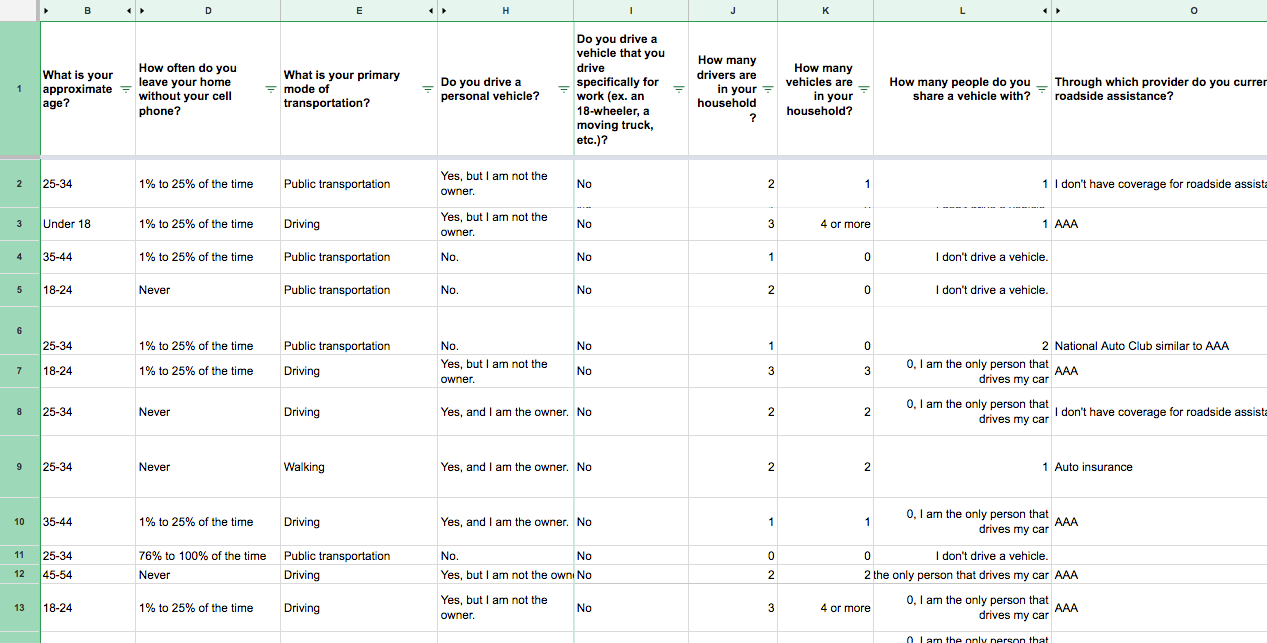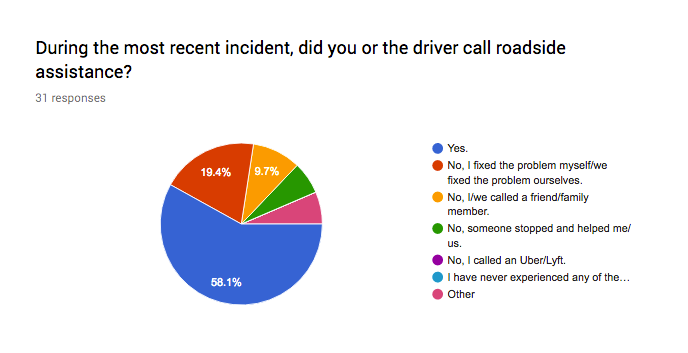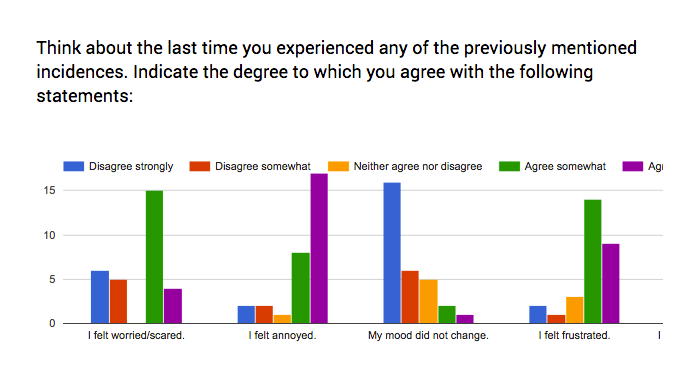 Synthesis
Two of the questions that I asked in the survey were, "Which roadside assistance service is the most reliable?" and "What do you think this makes this service the most reliable?" Here, I was looking for two things: 1) Was the service that each respondent considers to be most reliable the solution that they most recently used? and 2) What are some common attributes that drivers look for in a roadside assistance service?
I created pivot tables of the survey responses to see if I could find any correlations between preferred providers and perceived reliability, and I found a few things worth noting:
1. Most respondents indicated that their existing  provider was also the most reliable.
2. 68% of respondents contacted roadside assistance the last time they were a stranded driver/passenger, and 20% were able to resolve the issues on their own.
3. Roughly 8% of respondents received help from strangers, and about 4% received help from family or a friend.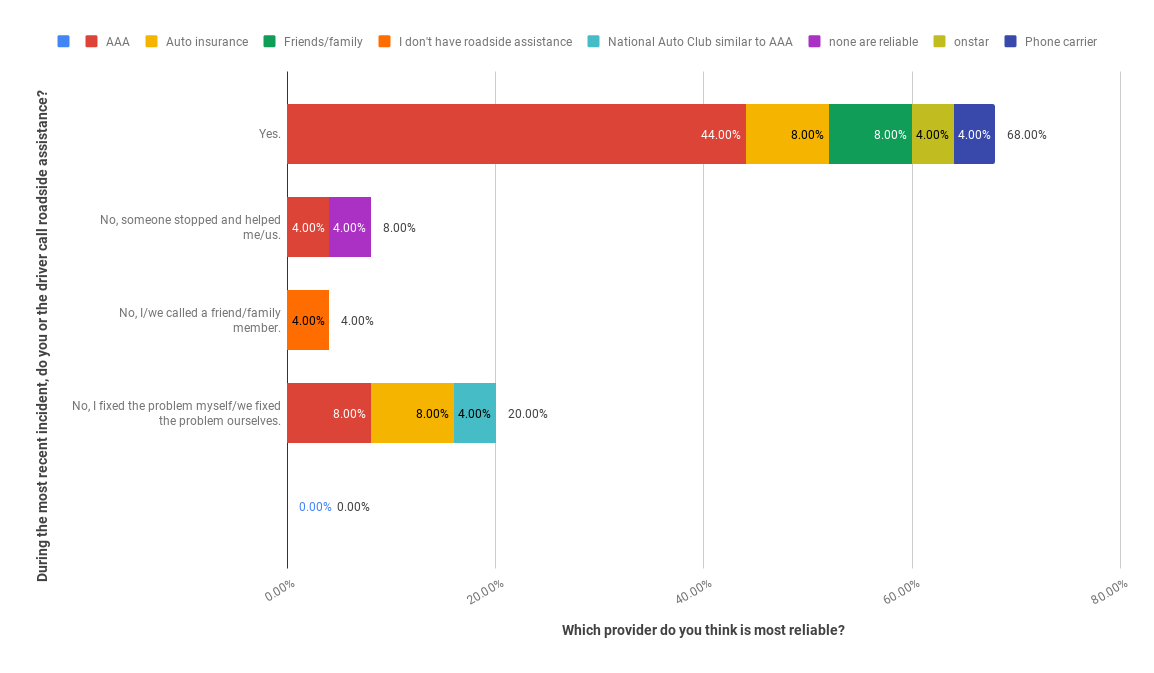 I then reviewed the responses to the question "What do you think this makes this provider the most reliable?" and sorted them based on provider. After this, I started grouping responses that seemed to be closely related,  and identified new categories/themes: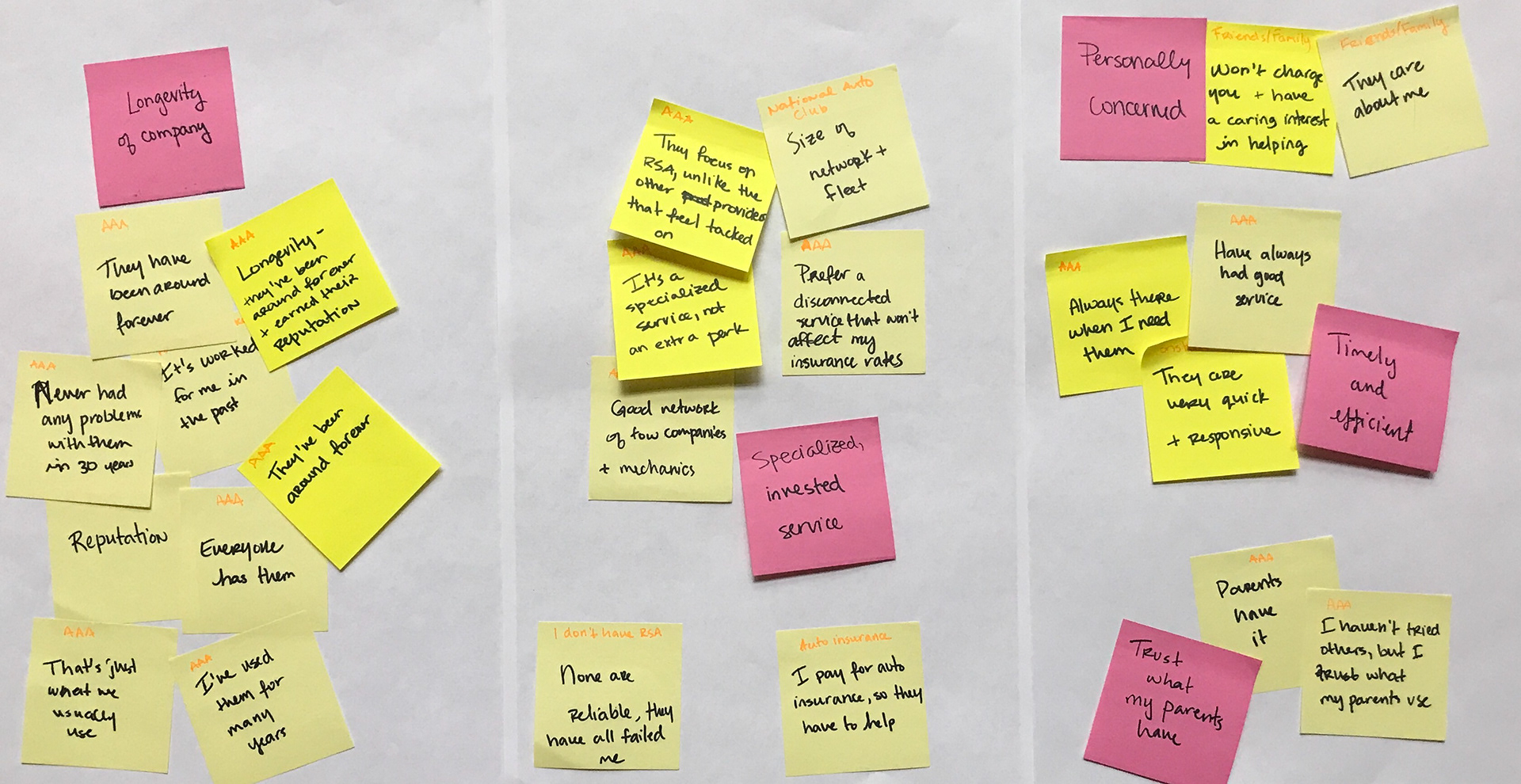 User profiles
I created user profiles based on secondary research and some findings from my survey. These user profiles were not based on first-hand interview data,  so I didn't lean too heavily on them. However, they did come in handy during scenario creation, which provided a nice backdrop for my design ideas.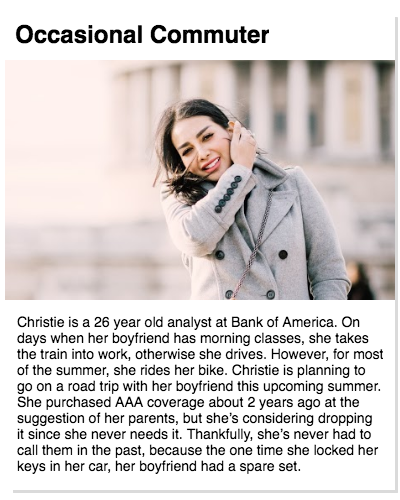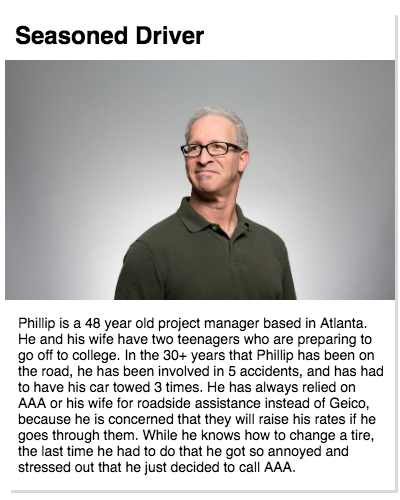 Strategy
Based on my research understanding of the landscape, I identified the following opportunities and pain points: 
Help drivers get assistance, but don't leave them feeling stranded. Reduce their sense of anxiety and frustration through reassurances and escape routes.
1. The feelings of stress, frustration, and anxiety that drivers experience while stranded are exacerbated by poor customer service, unreliable towers, and expensive fees.

2. Younger drivers are inexperienced and rely on parents for guidance.

3. Drivers can't predict when they'll get a flat tire, which is the most common cause of roadside breakdowns.

4. Some problems are preventative (ex. running out of gas), but it is still hard for people to pinpoint exactly when failure will occur.
Create a mobile app where drivers can monitor their vehicle health and quickly request help while still maintaining peace of mind.
Synthesizing the goals from my research meant that I could start thinking about the different functionalities and user goals that app should support. I referenced the secondary research, the survey, and user profiles in order to create realistic scenarios upon which to base my design ideas.
Design direction
After defining a strategy to move forward with, I began to quickly generate ideas around the themes of
requesting help while still maintaining peace of mind and monitoring vehicle health.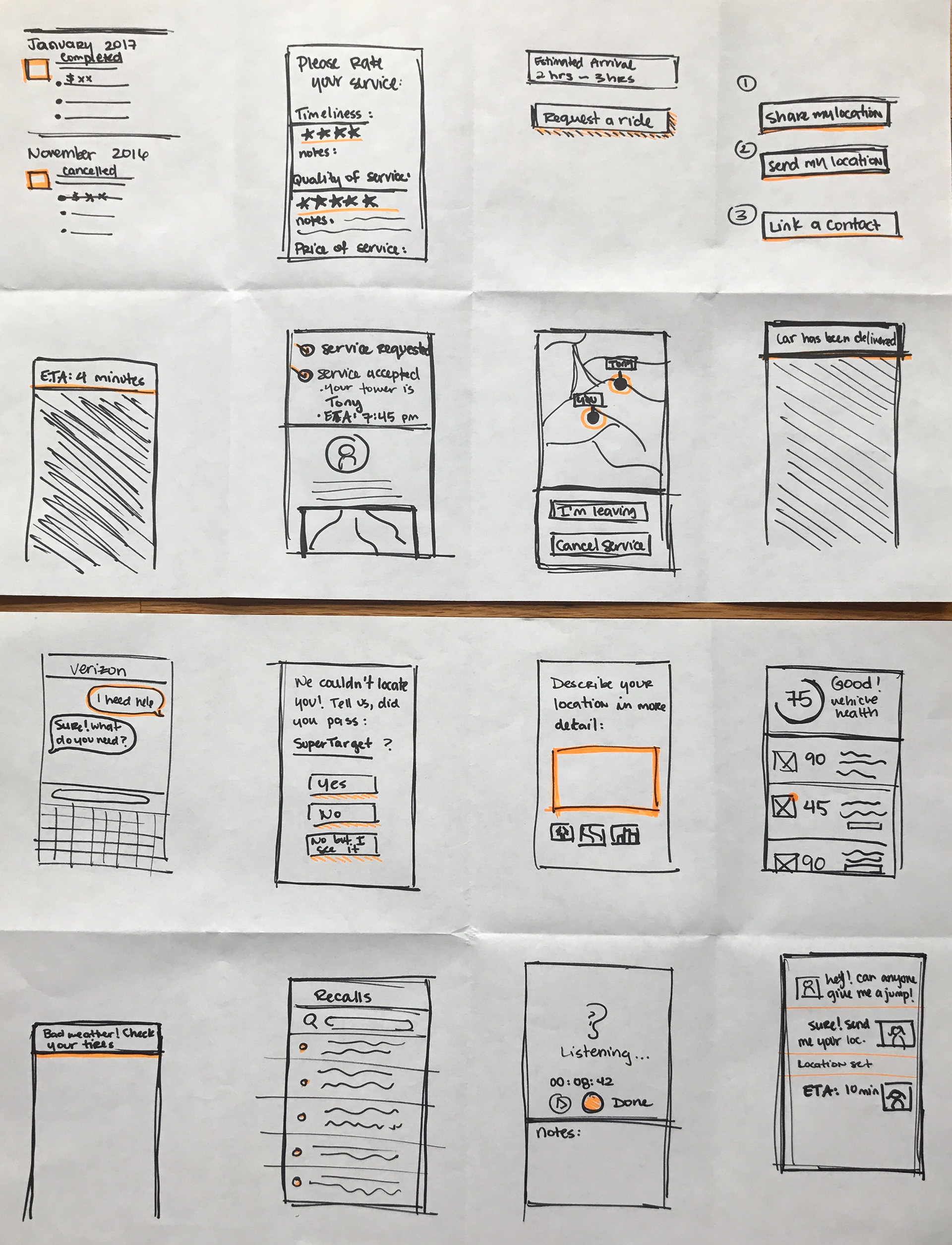 Divergent thinking
Thinking broadly about UI elements, interactive behaviors, functional elements, etc., I did two rounds of Crazy Eights to quickly get some ideas down on paper. After both rounds, I allocated 6 votes to myself, and selected the 6 concepts that I thought would be the most interesting to explore based on user needs, business opportunity, and complexity of implementation. Of course, I had to make educated guesses here, since I don't truly know the user needs, business opportunities, and technological capabilities of Verizon Telematics.
As I was trying to decide which concepts would be worth exploring further, I realized that it wouldn't be feasible to design and prototype so many disparate features. I referred back to my strategy from before and decided that it would make sense to descope. Focusing on what I was able to identify as two of the core user needs, I redefined my strategy:
Create a mobile app where drivers can monitor their vehicle health and quickly request help while still maintaining peace of mind.
Create a mobile app for stranded drivers so they can quickly request help while still maintaining peace of mind.
Based on this adjustment, I selected my top 6 choices.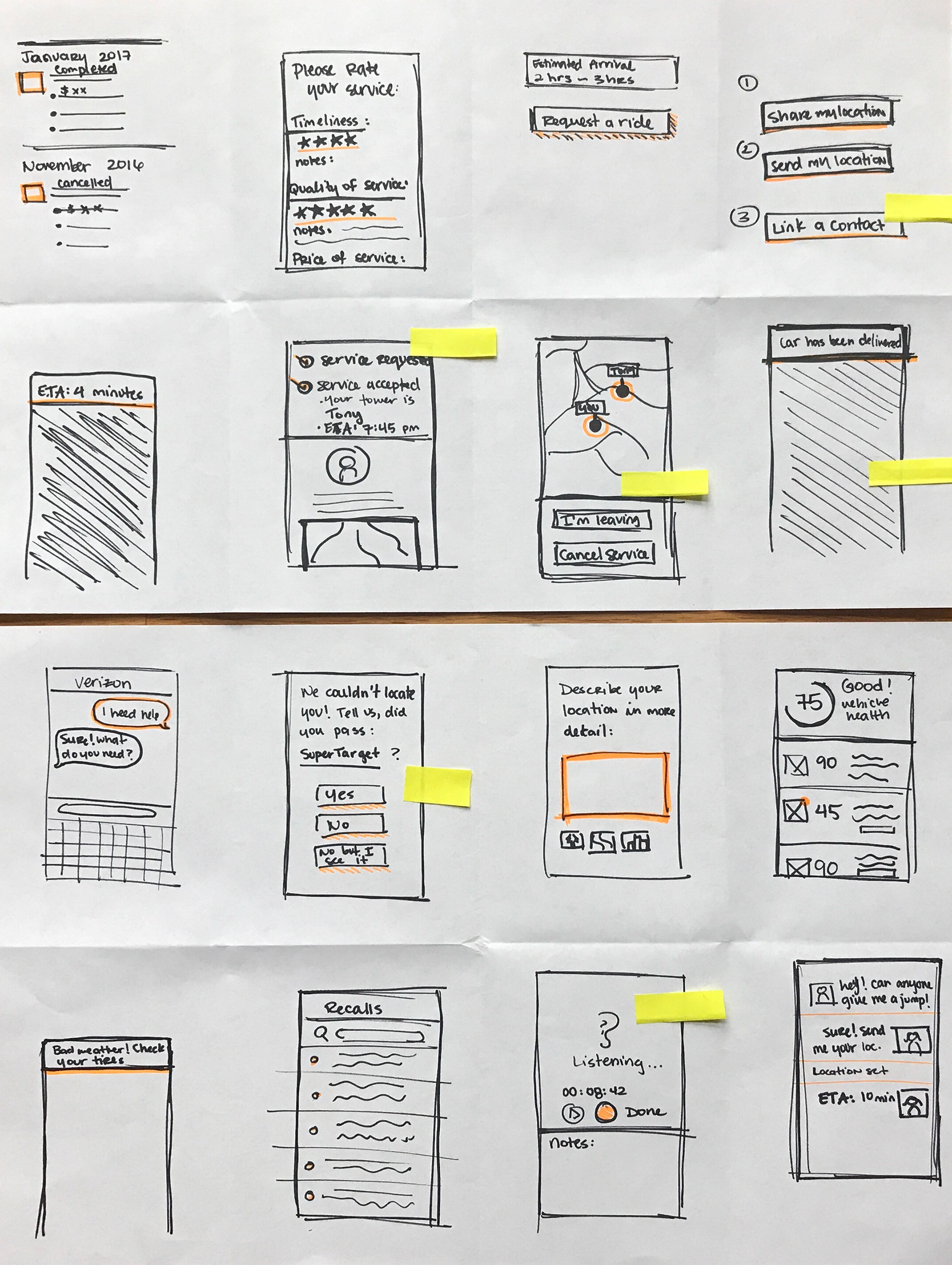 Adding structure
After identifying the main points in the scenarios, I defined the primary pathways each persona would explore through the app. This was a good way to add more structure to the quick sketches from earlier and think more deliberately about functionality and usage contexts.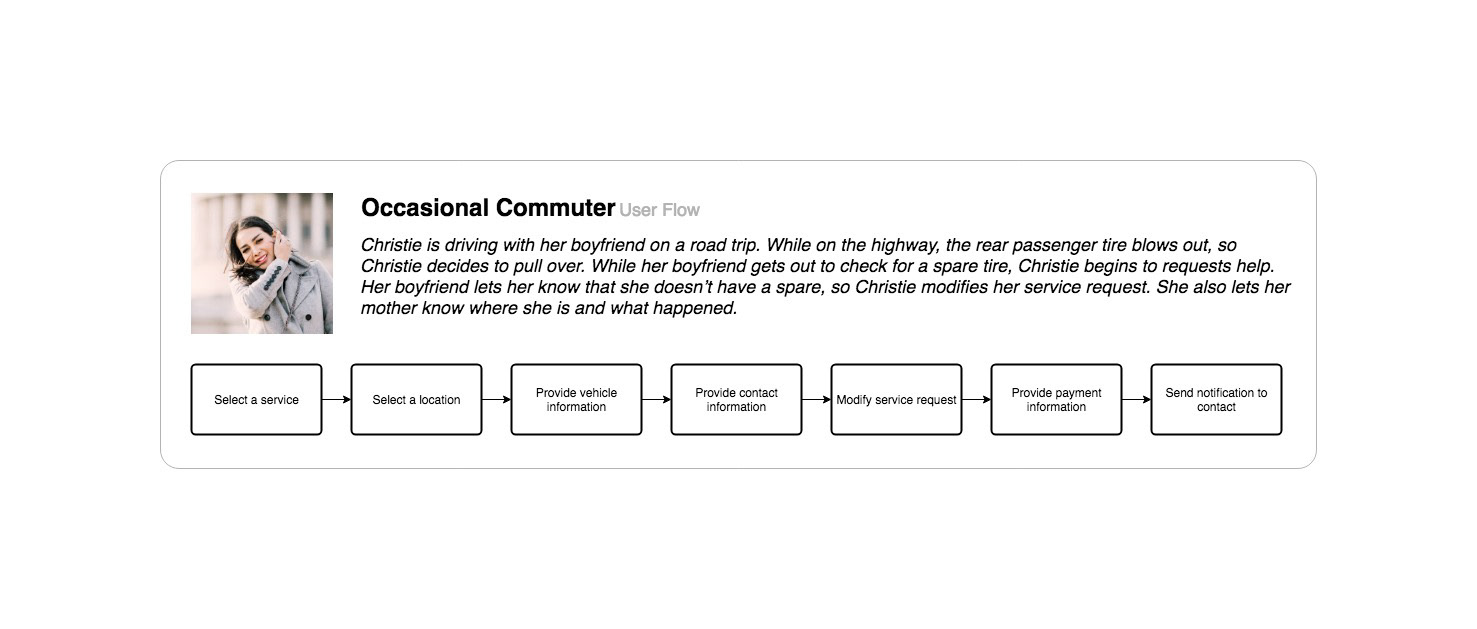 Juxtaposing the scenarios with the flows helped me think about how the interface would help the driver at each stage.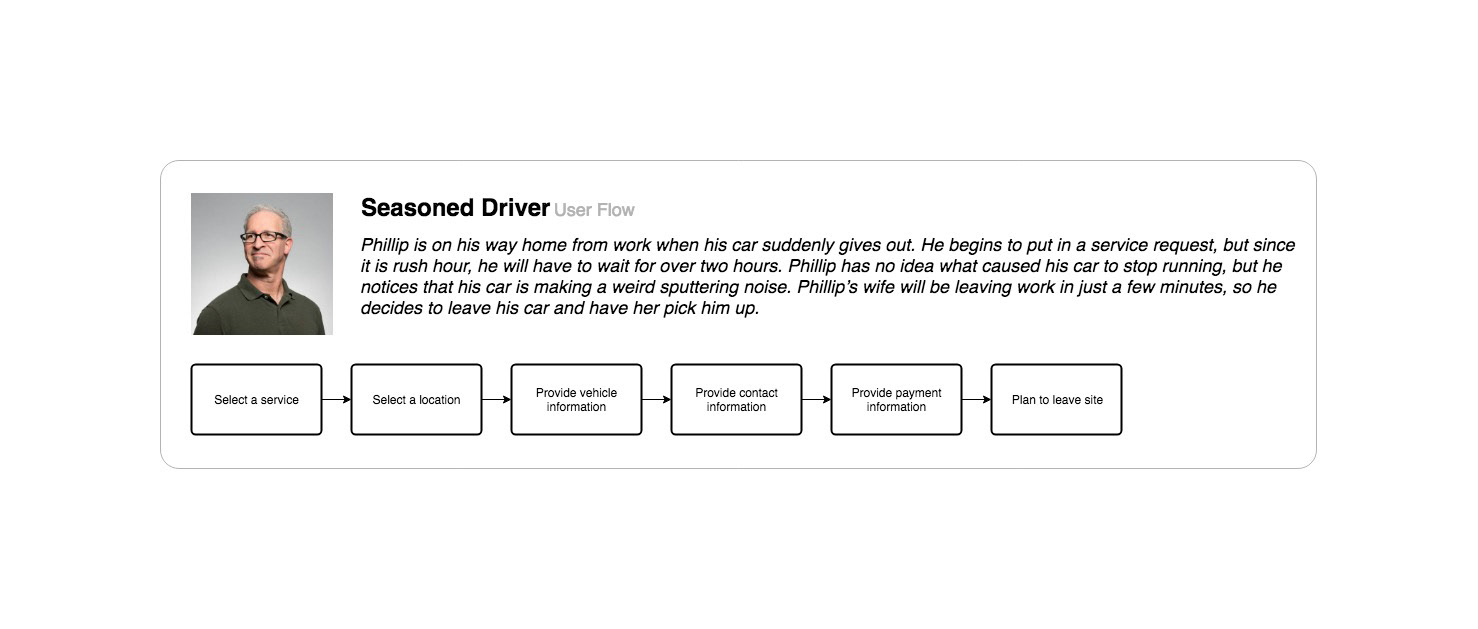 Wireframing
I used the user flows, scenarios, and top six ideas to prioritize functionality and content within the wireframes. I adopted a "helpful, yet to-the-point" tone of voice for the copy, which seemed fitting for this type of app.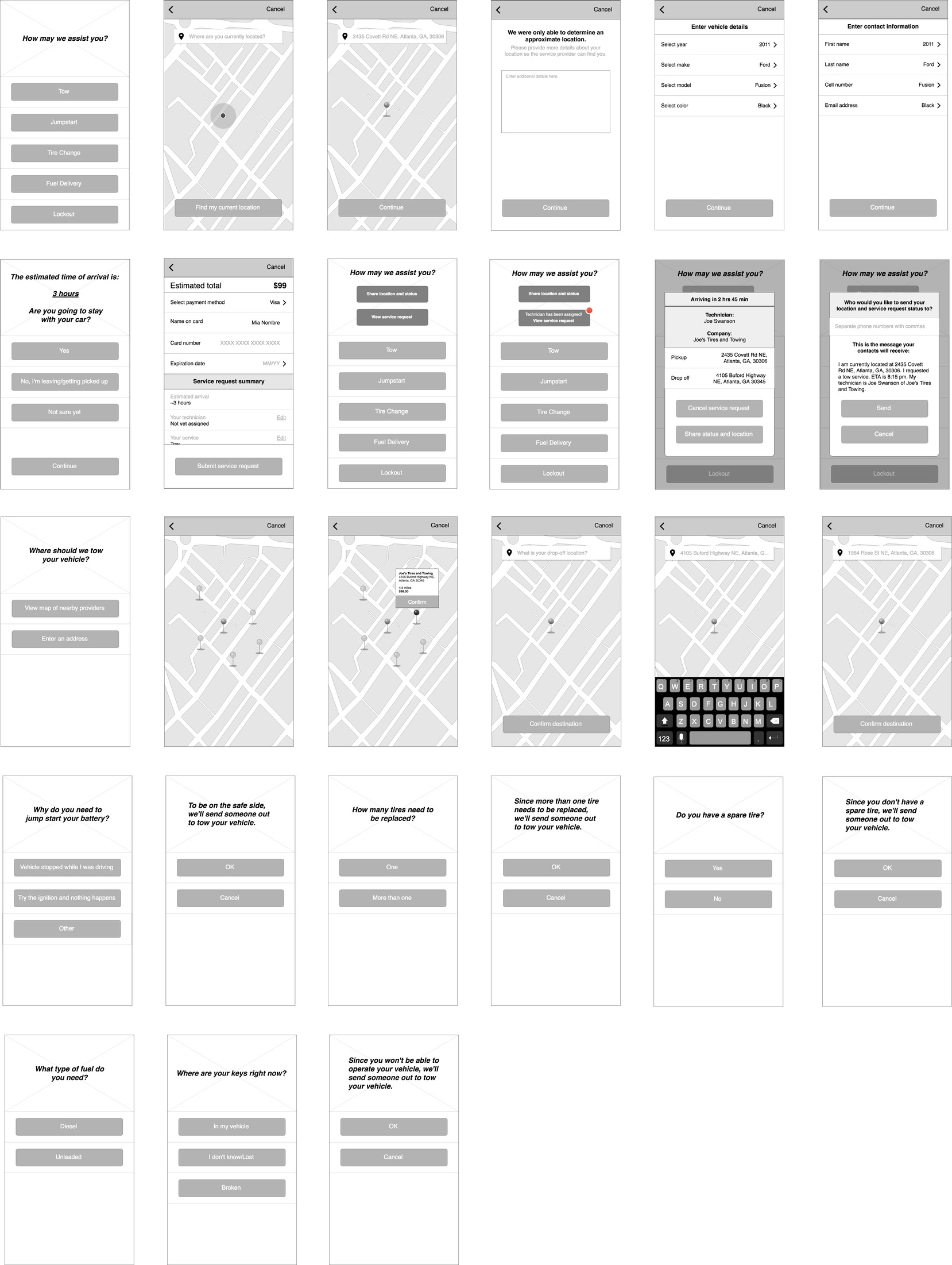 UI design
My goal was to incorporate interactions that would be simple and easy to understand when under stress. Visually,  CTAs needed to be clear and distinguishable. Minimal splashes of color highlight important areas of focus without being distracting.


Allowing drivers to leave their car behind and get a ride from someone else gives them somewhat of an "escape hatch" so they don't feel stranded. Reminding drivers to alert a relative or friend of their predicament and location offers peace of mind in the moment.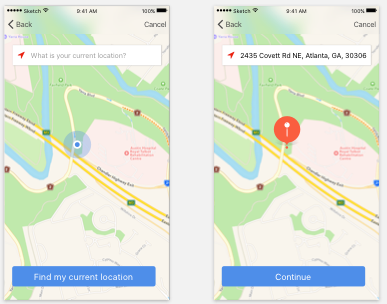 The tone of voice is helpful but authoritative to help dissuade any feelings of stress, frustration, or anxiety that drivers could experience while stranded.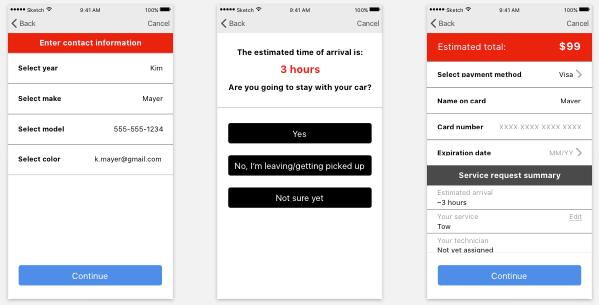 If I had more time I would...
Conduct more in-depth interviews and test my concept with drivers. For the Verizon interview, I prepared a Marvel prototype, but it would have been interesting to get some in-context feedback to better understand how (or if) something like this could actually be useful. Would drivers want to be able to leave their car and catch a ride? Is it important for them to be able to alert a family member or friend? Is that something that drivers would normally forget to do? Would drivers even remember to open up or download this app? Would someone who has other viable options such as AAA or roadside assistance through their car insurance ever have cause to use this app? Under what circumstances?