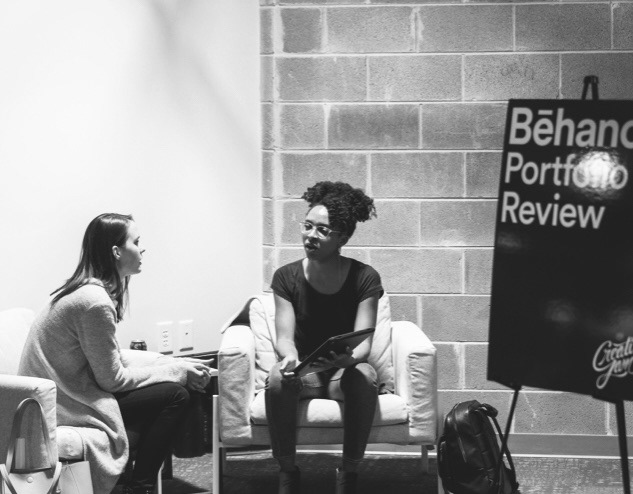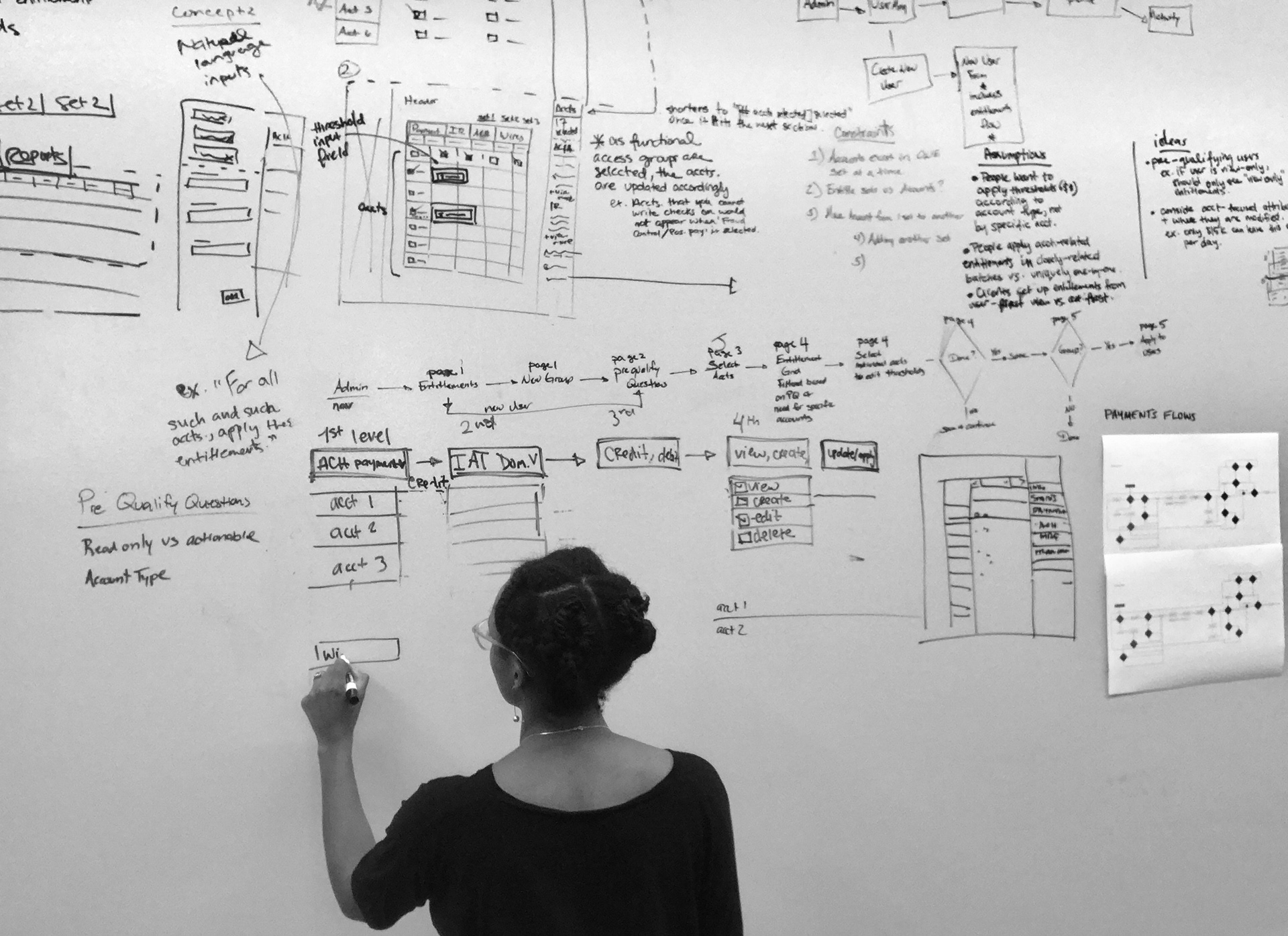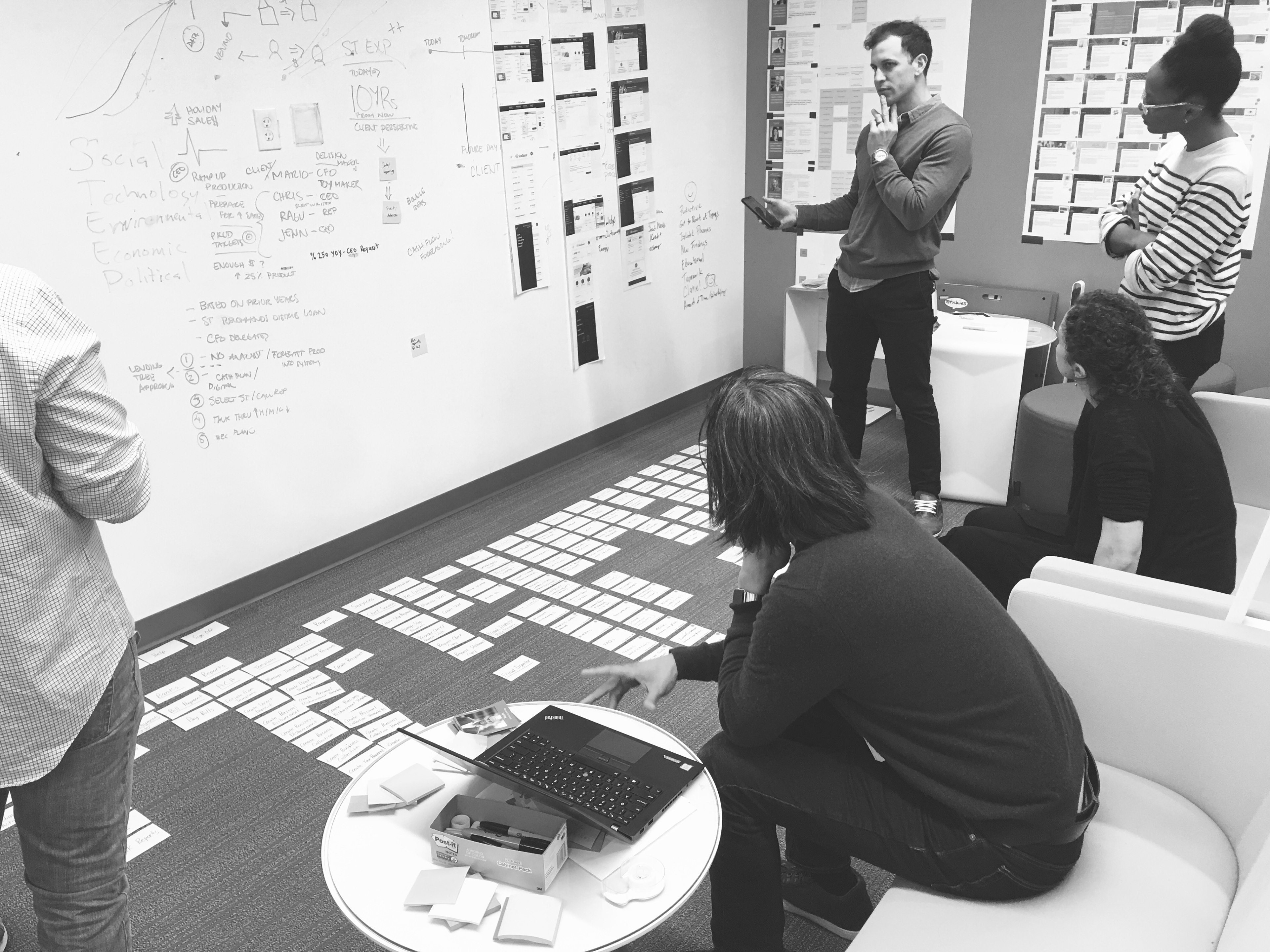 What I've done so far
I work at SunTrust within the Wholesale line of business along with 7 other designers and researchers. Our goal is to provide small business owners, corporate financial professionals, and SunTrust bank employees with the tools they need to keep their day-to-day operations up and running. I manage the direction of the intended user experience for
two core products
: an internal CRM tool for client services personnel and SunView™, our banking portal for large companies. As the lead UX designer for both of those products, this involves:
Leading the exploration
of new design and strategy endeavors.
Showcasing how powerful and necessary user input is 
and highlighting gaps in understanding by facilitating generative and evaluative research efforts.
Overseeing, coordinating, and collaborating
with a UI designer, a researcher, and several product partners to realize the design vision as it evolves through each phase of work.
Conducting contextual inquiries and partnering with Research on
interviews and usability studies.
 Jointly-managing the product roadmaps and backlogs
alongside my PMs, POs, and BAs, as well as
 planning and facilitating the design team workflow from week to week.
Working with a front-end developer, backend developers, and a solutions architect
 to understand technical limitations, iterate on designs, and ensure that the software architecture supports user needs and usability scenarios.
Implementing user-centered design practices
 by advising the rest of the team on usability best practices, specifying context of use, thinking through scenarios and states, and leading the team through design iterations. 
Defining and scoping product and service
elements alongside product management partners by prioritizing and negotiating features and flows.
Designing and prototyping interactions
 to share the design vision, understand flows, and drive decision making around product, design, and research direction.
Writing words 
(CTAs, error messages, confirmation messages, notifications, instructional copy, labels, etc.) for UI and tweaking it with our copywriter.
Trying my darnedest
 to do away with the corporate bank jargon!
...Continued
Our full team, which covers both Wholesale and Consumer lines of business, consists of about 30 designers and researchers. As a senior design member of the team, some of my work has included:
Increasing team communication and collaboration 
through engaging rituals like regular sharing of design and research ideas and strategies.
Establishing strong relationships
with key business partners (e.g. technology, operations, product) and bridging gaps between these partners.
Collaborating on and sharing qualitative research
 to deepen understanding of user ecosystems and workflow complexities.
Co-leading a process improvement workshop
 to air team grievances and present a vision for how to restructure the way the team works.
Serving as a UX 'go-to'
,
 as I am frequently asked to partner with other designers and researchers to work through their design concepts and research plans, as well as getting tapped to lead the UX work for a high-stakes side project.
​​​​​​​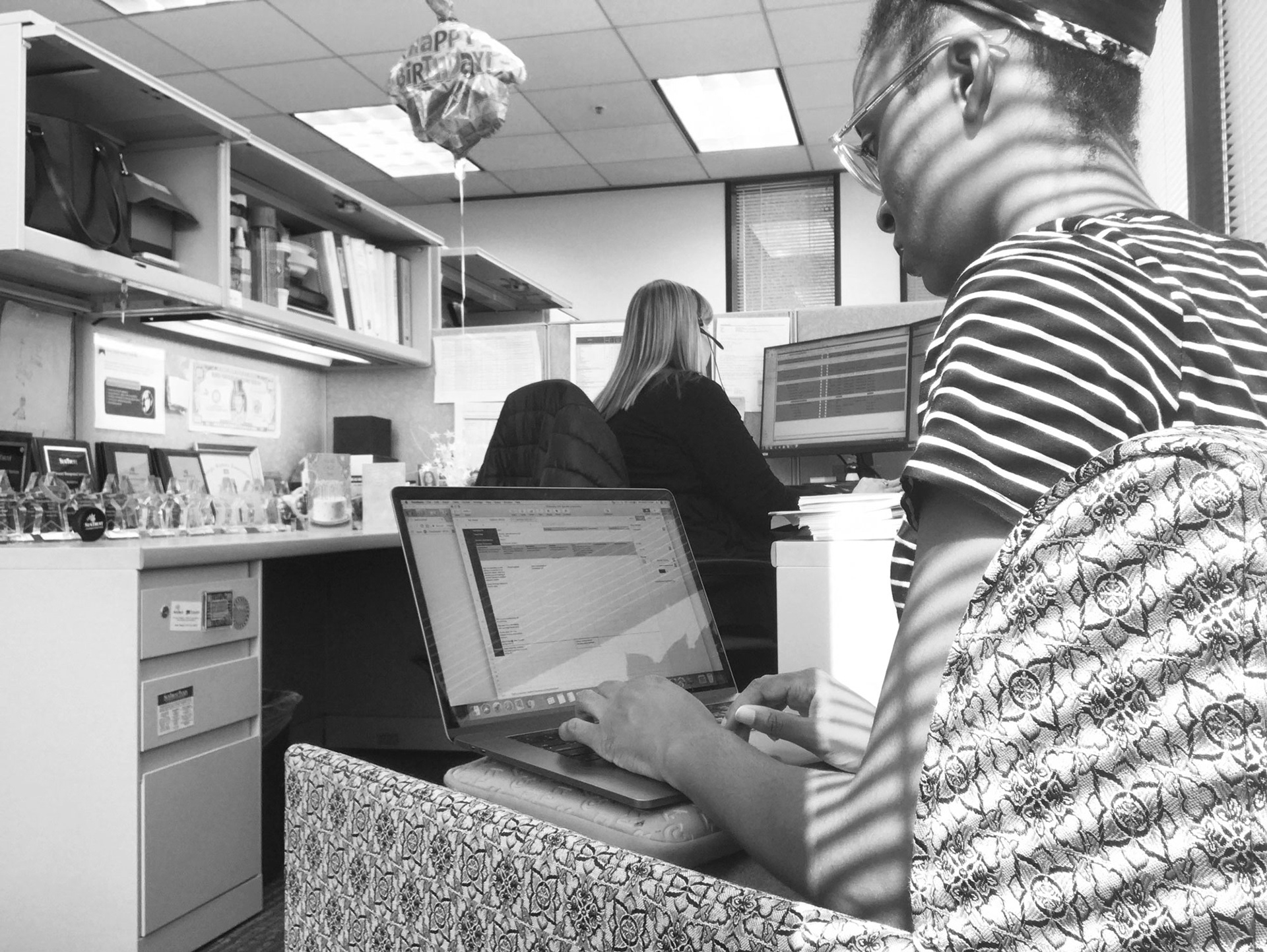 What I just wrapped up
Usability and Comprehension Study:
 Many wholesale clients, at all banks, really, have multiple banking relationships and are familiar with various financial products. However, these relationships are often long-lasting and unchanging, so redirecting data to a new platform is an event that happens infrequently. I, along with two researchers, just completed a study with some SunTrust clients where we evaluated the understandability of our data migration strategy and the usability of this new system. We are currently using the research findings from this study to inform ongoing design work and to serve as evidence for the need for continual research with end users. 
What I'm currently doing
​​​​​​​
UX Agility:
I am also working at the Scrum level, collaborating with cross-functional team members an "wagile" environment and incorporating Lean UX methods into our workflows using a
parallel track
approach. It has been a bumpy ride, but things are starting to level out.
What is upcoming
Discovery Research:
G
etting access to clients and end users can be very difficult, especially in the B2B space. In the past at SunTrust, I have had to exclusively rely on techniques like interviewing stakeholders and analyzing job descriptions to build a picture of how I
think
our clients and end users work on a day-to-day basis.
This summer, we will be running a study to get an understanding of where SunTrust fits within our users' ecosystems through a series of remote interviews and site visits.