Jobs by CareerBuilder Mobile App
The ultimate goal of the CareerBuilder Job Seeker app is to connect the right job seeker with the right job. Together with a senior interaction designer and the rest of the Consumer Mobile Apps Team, I worked to design and launch an MVP by the end of Q4 2016. The most positive result of that was the empty state illustration that I designed resulted in a 92% increase in resume uploads, which was a primary KPI for the quarter.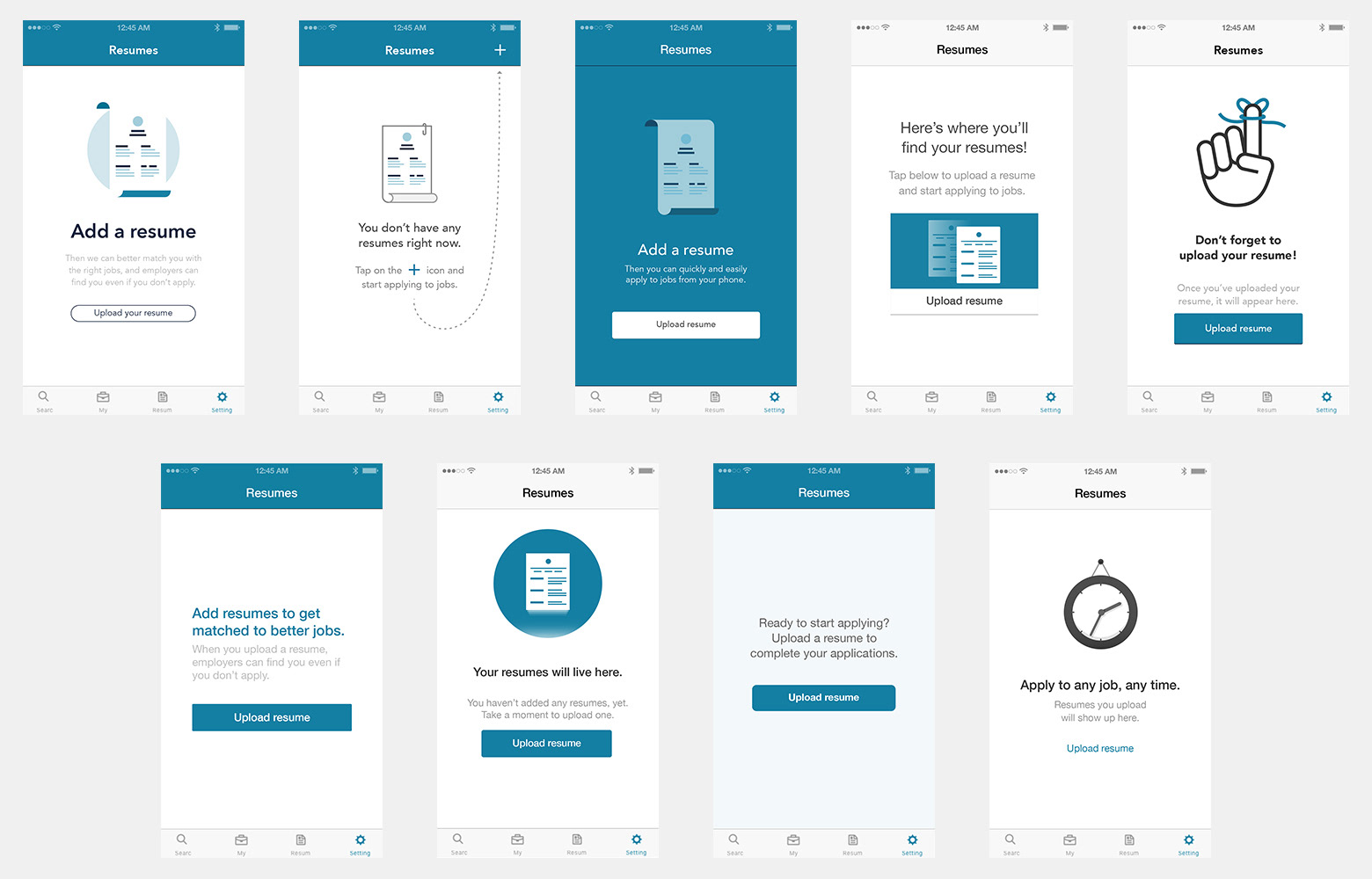 I worked on visual design updates, illustrations, copywriting, and icons for both Android and iOS, and I also led whiteboarding and brainstorming sessions with the developers.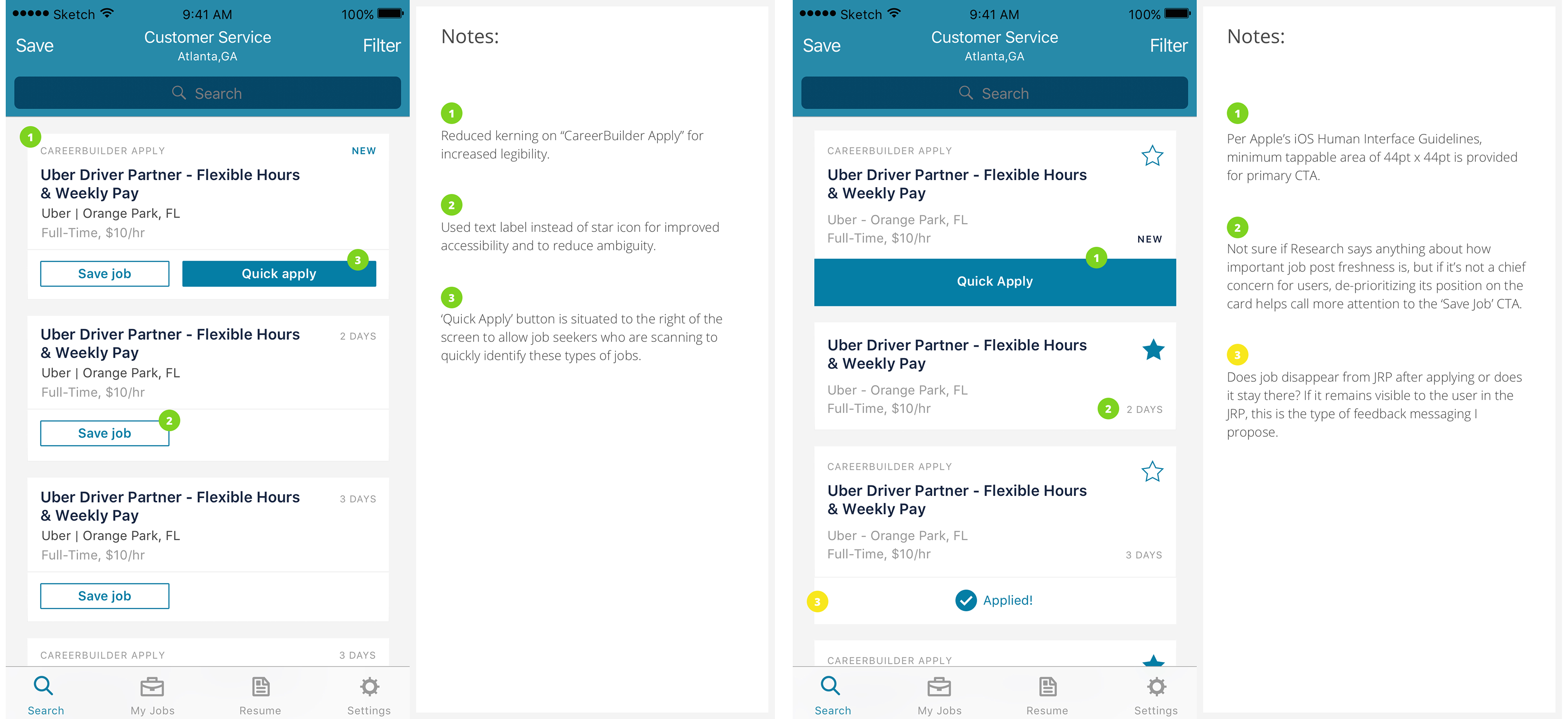 Result
As stated, the introduction of the aforementioned empty state resulted in a 92% increase in resume uploads for Q4 2016. That was definitely a personal win, and a big win for the UX team as well.
I absolutely loved working with this development team, and would welcome any opportunity to work with them again in the future. I also worked alongside an amazing senior designer who taught me some great strategies for incorporating better process into your product teams, and increasing collaboration and communication with your developers.
Company Profile Pages
Previously conducted research revealed that a few key job seeker personas place a great deal of importance on learning specific details about companies before they apply to them.
We found that this is partly due to the fact that job seekers want to determine if they align with a company's culture and values, but we also learned that an uncomfortable number of job seekers have fallen victim to scams from companies that they find on job boards.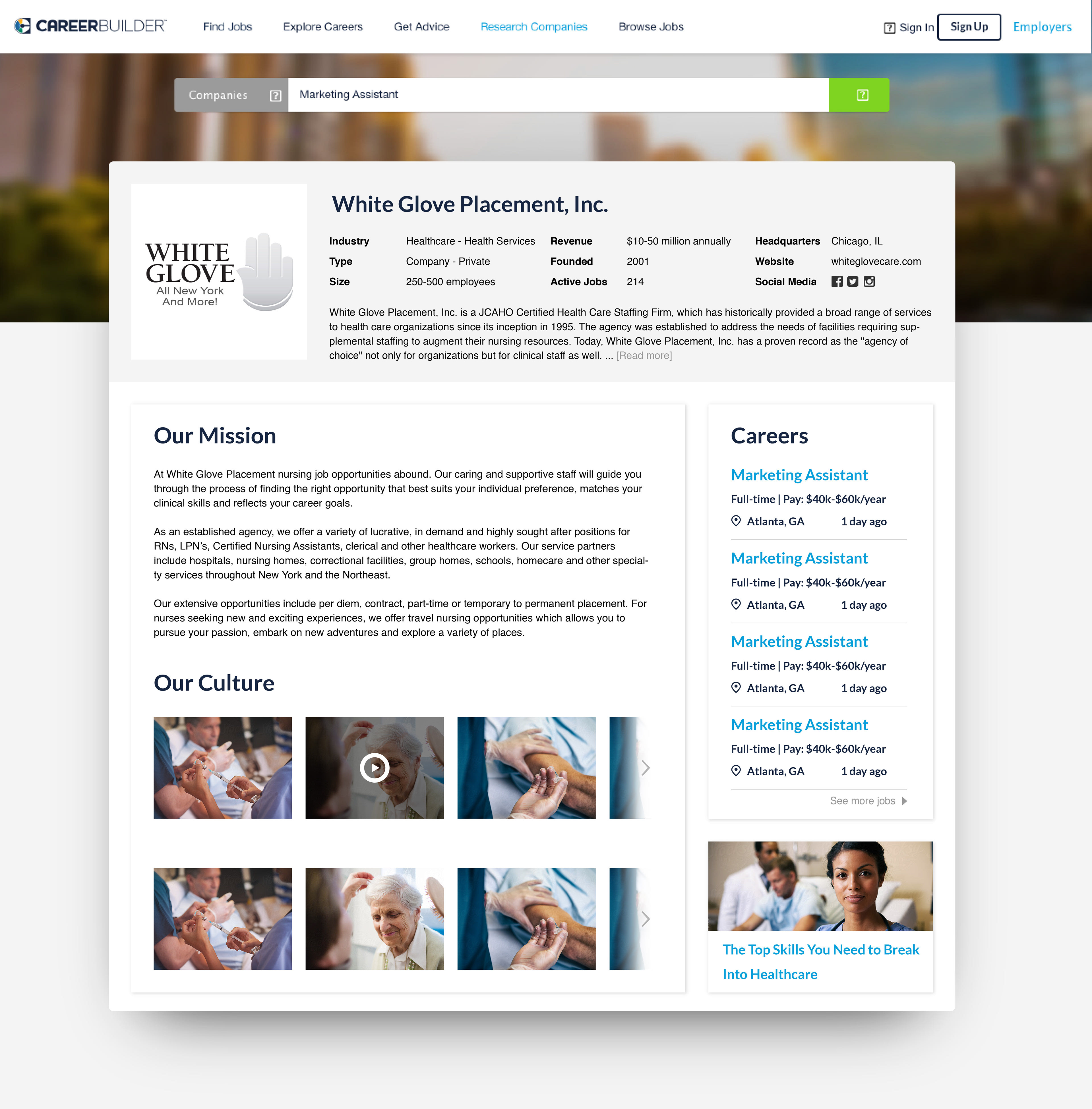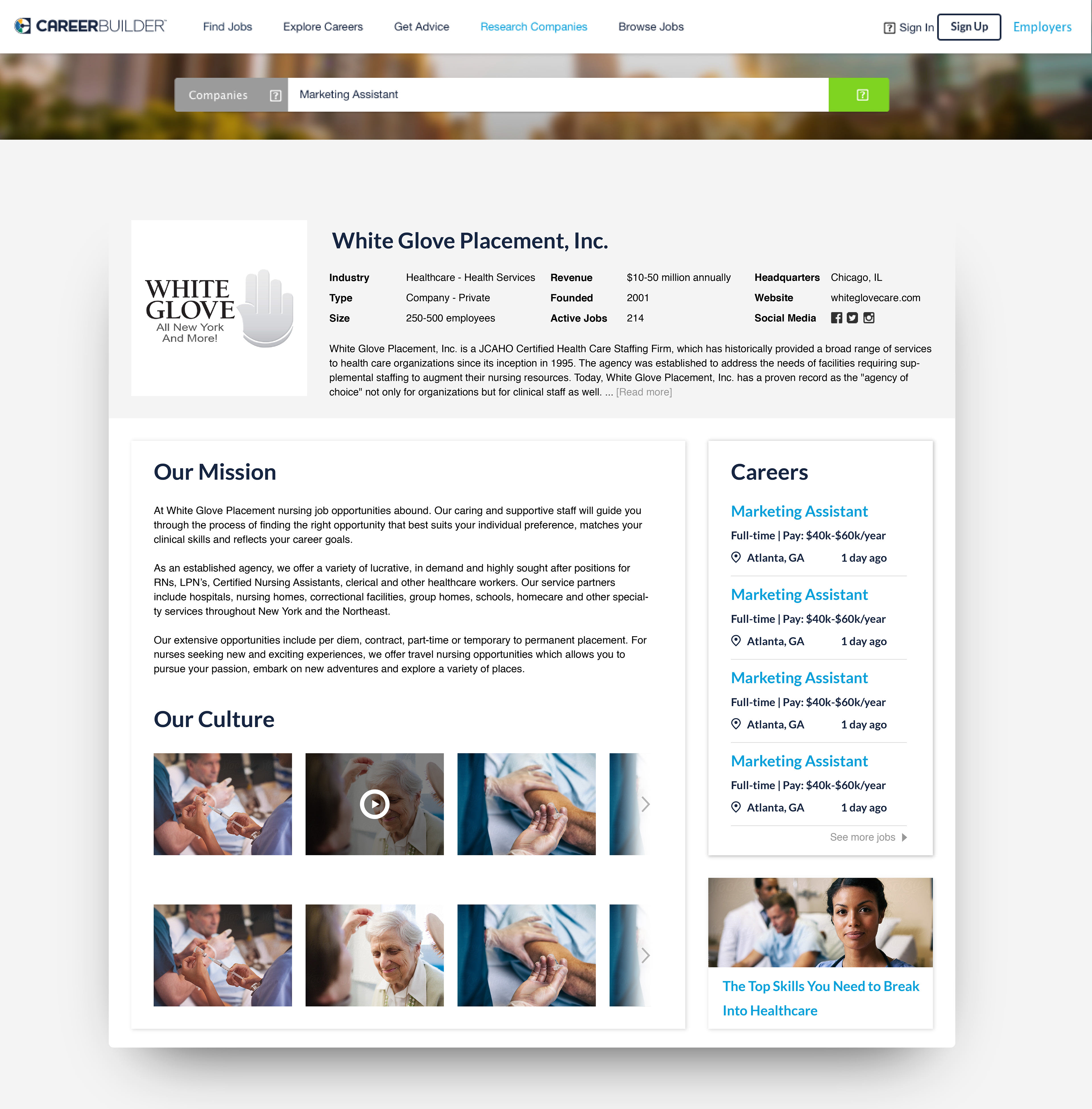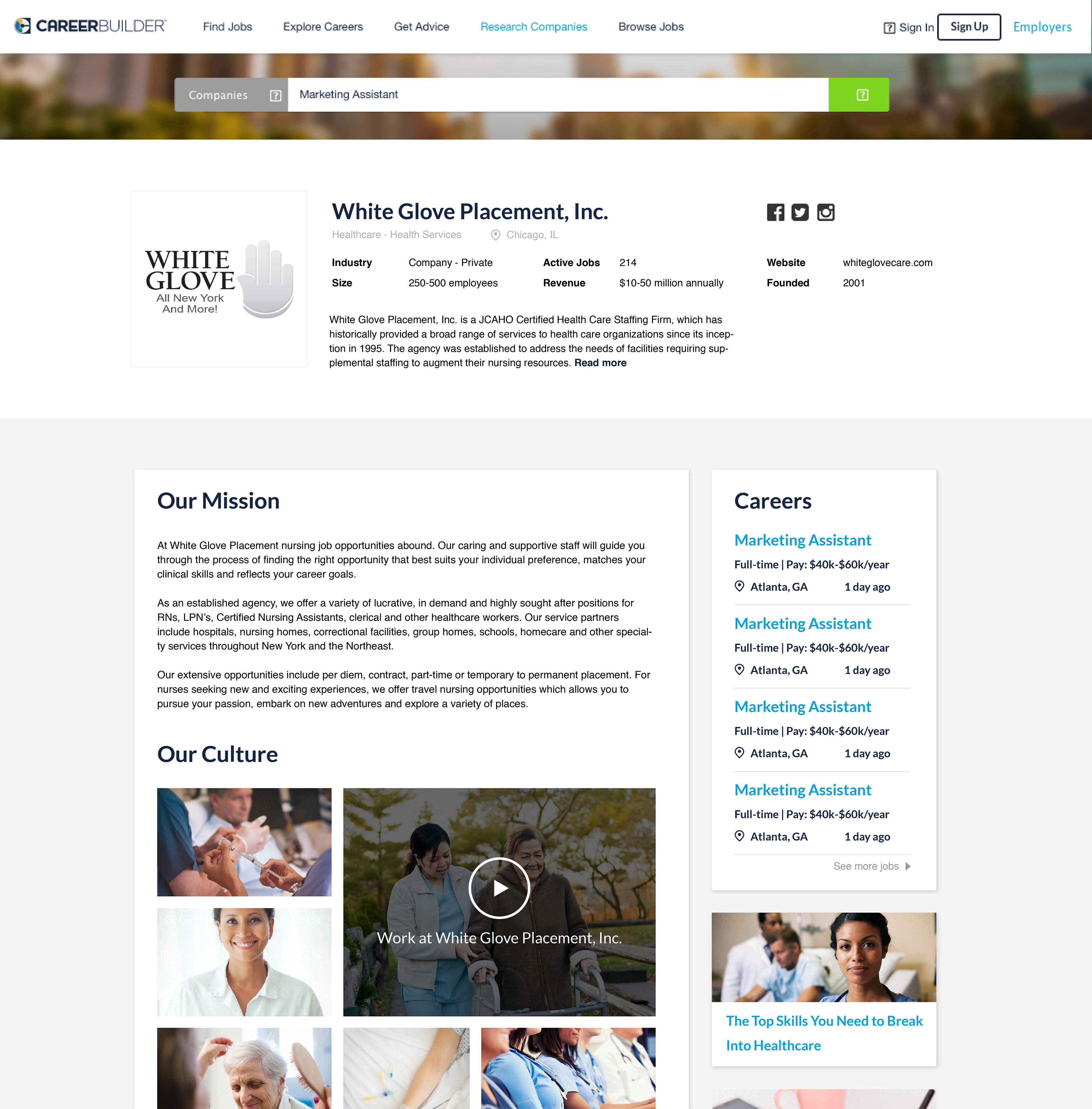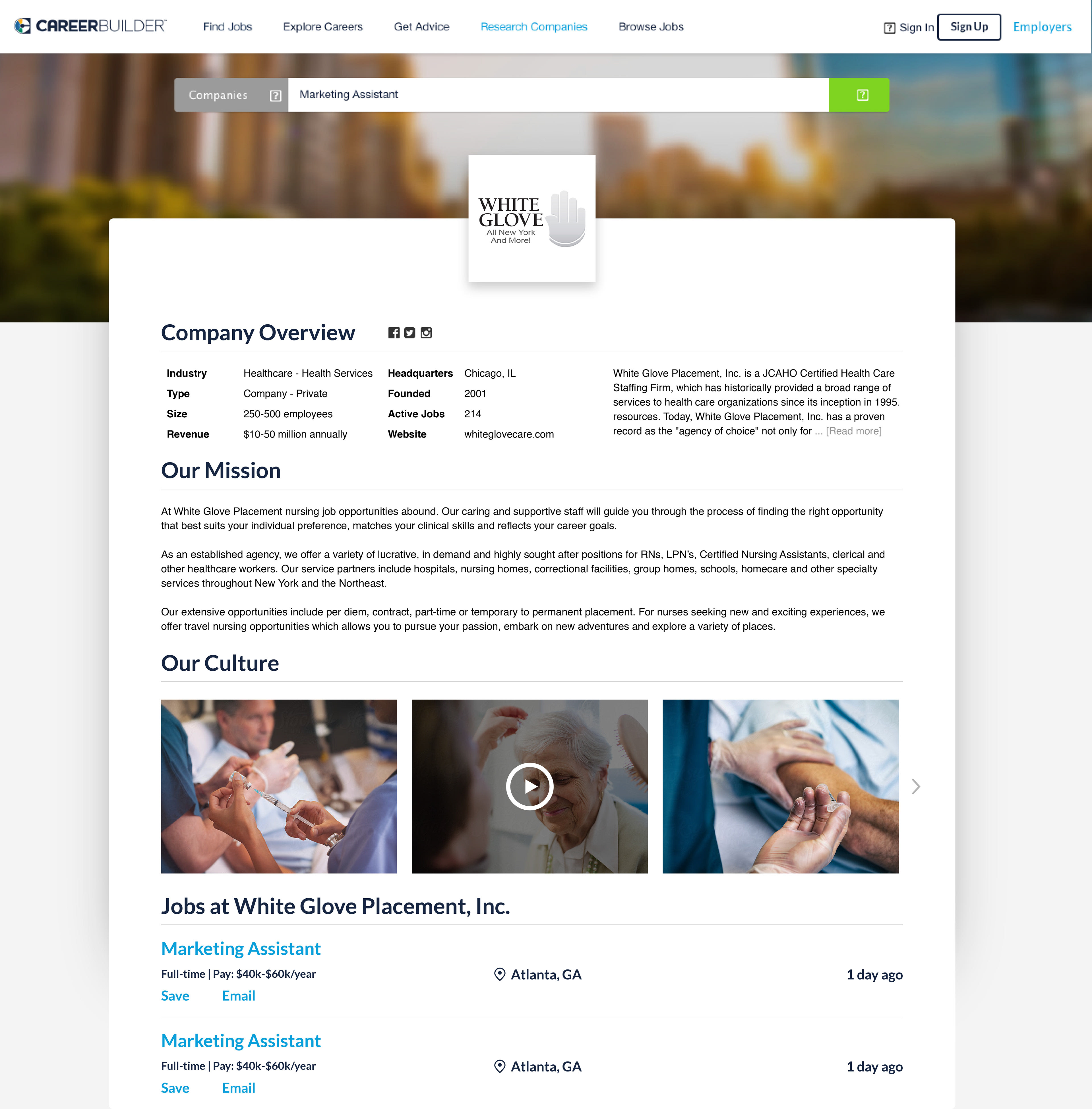 One solution would have been to identify these companies that post jobs on our job board, and prevent them from posting, but the needs of the business disallowed this option. Instead, we decided to design and test the concept of Company Pages.
Company Pages are pages within CareerBuilder.com that contain information about companies that we learned that job seekers cared about, such as company history, open positions within that company, employee perception, financial information, and content related to company culture.
In partnership with a senior researcher, we held a moderated, in-person testing session with a total of 5 participants. Our goals for the session were to understand:
1. How job seekers currently conduct company-related research within the context of their job search
2. What content on Company Pages is most valuable to job seekers
3. The perception of different page layouts and formats, including expanded page vs. modal
4. How, when, and why job seekers use Company Pages in their job search
Each participant was shown these three designs: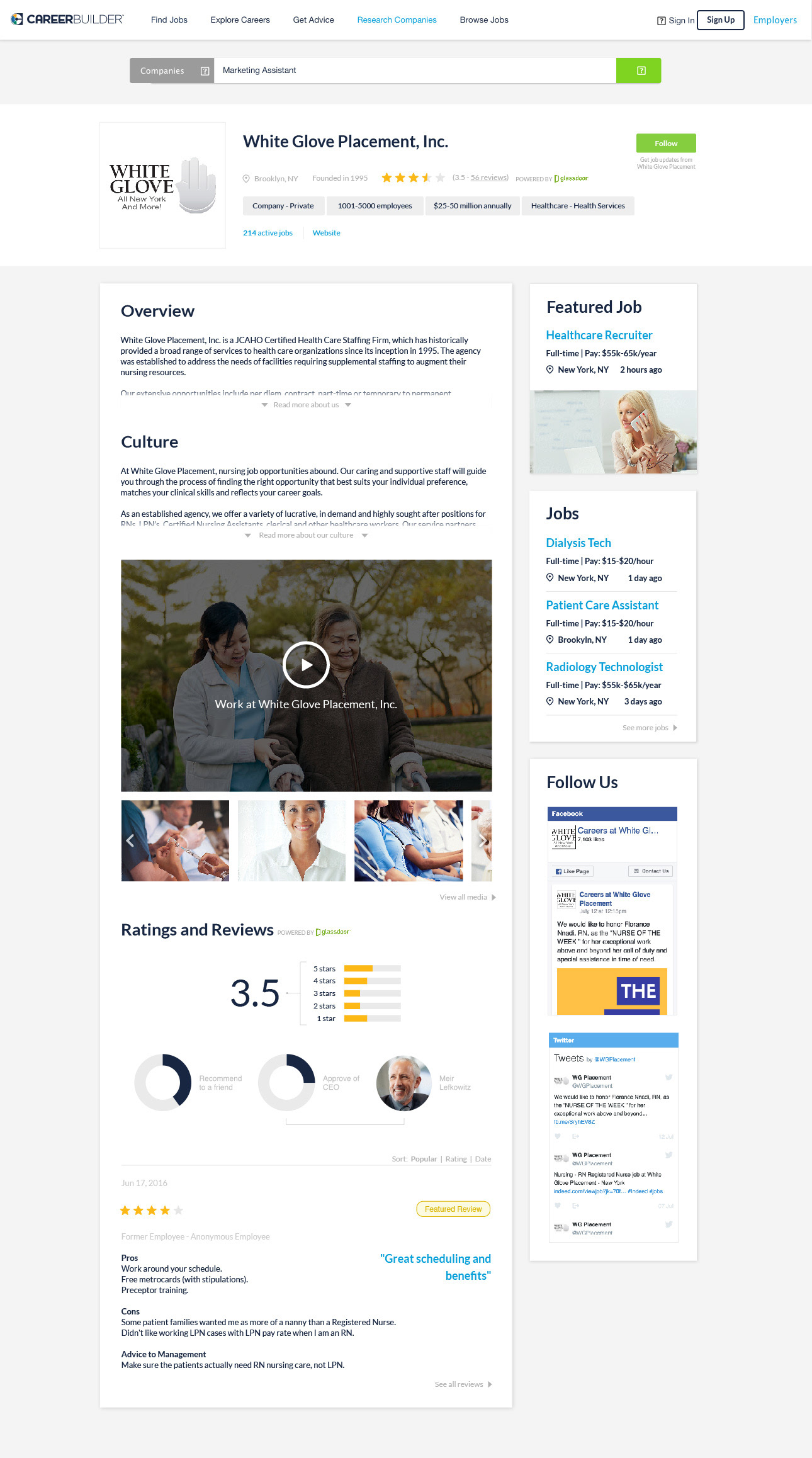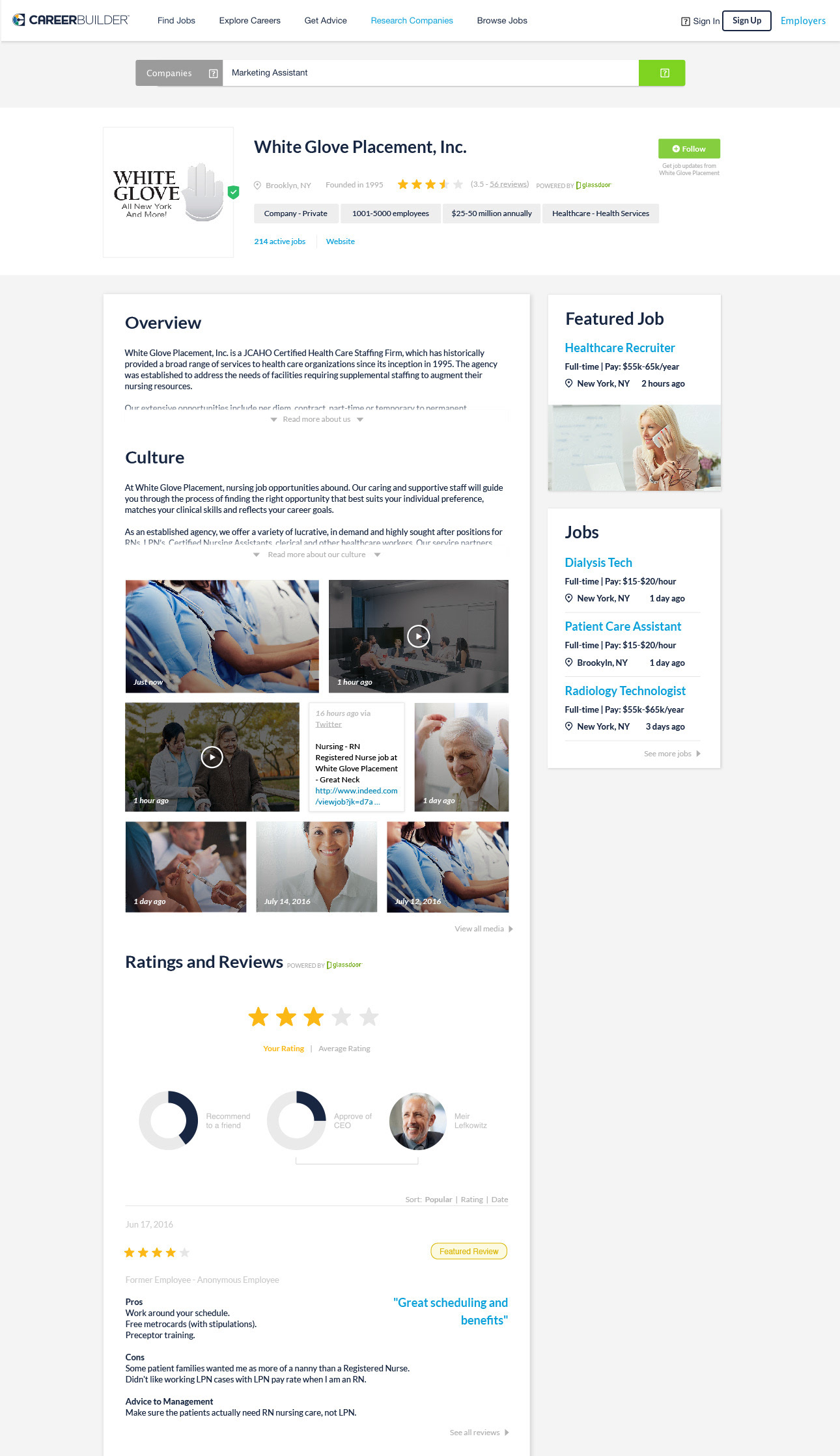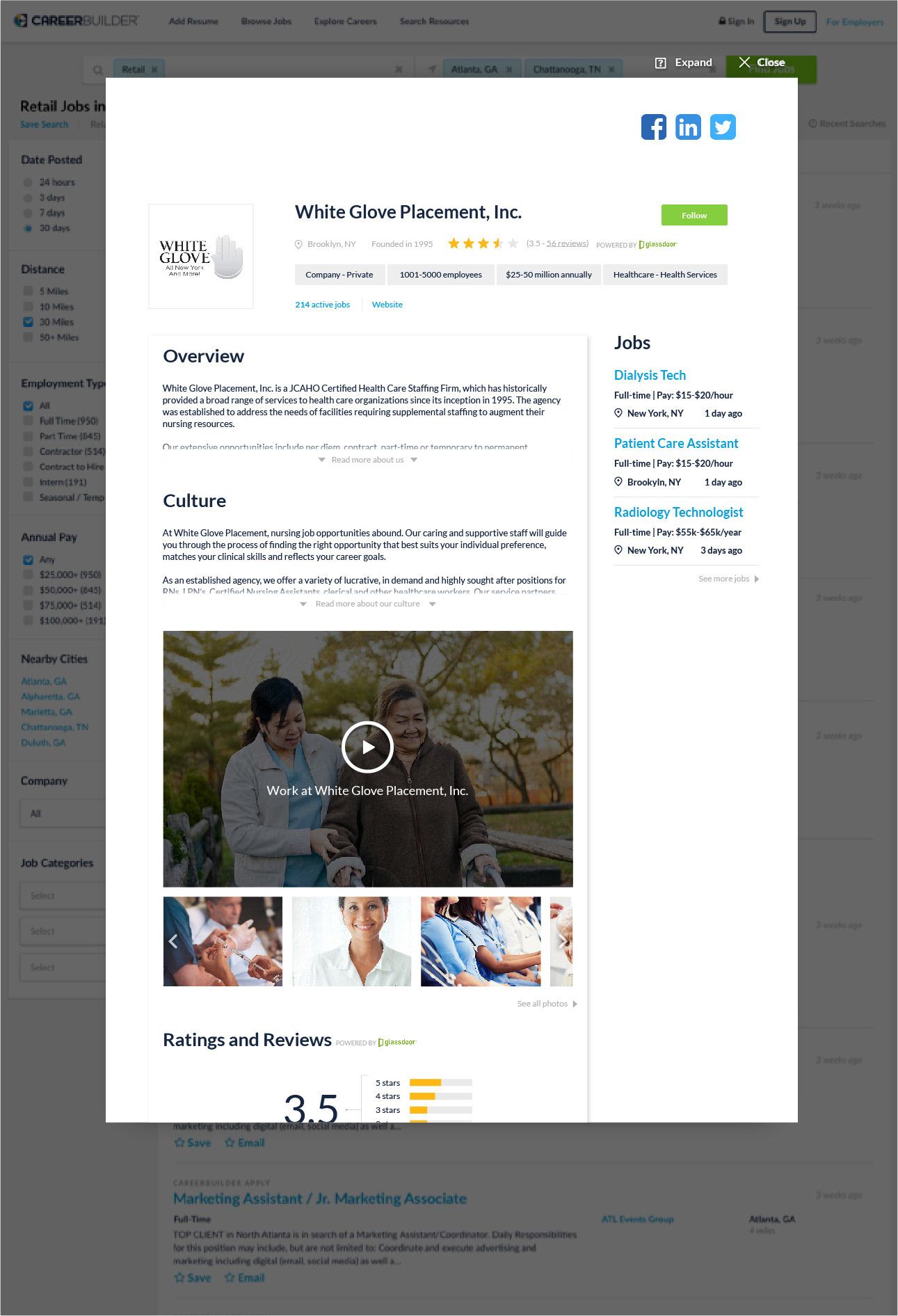 Below are some of our key takeaways, and a few highlights from the session: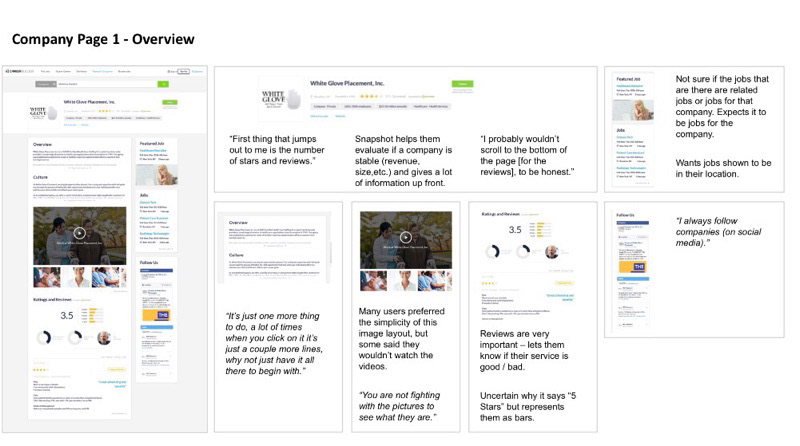 Make company reviews more prominent on the page or visible without requiring user to scroll down. 
Company overview and culture
Image/Video layout from Version 1 was preferred for it's simplicity. Image/Video layout from Version 2 attracted some users due to it being current. However, both need to ensure content is valuable and clear. Users are hesitant to "click" or spend time watching videos if they're not sure what they're about to see. 
Consider ways to make content under "Overview" and "Culture" more engaging and easy-to-digest. As it is, content is too small and most users skipped over it or were reluctant to "drop down" to read more. 
Verified green check mark is valuable and helps users trust a company, but not everyone understood what it meant. Explore ways to make this more explicit. 
Make it clear what jobs are being shown -- are they related jobs, or jobs from that company?
Facebook and Twitter was valuable to participants who used it for job searching, but was considered distracting or unnecessary for those who didn't. Explore ways to provide this information that is useful for those who want it, but minimal for those who don't care about it. 
The modal could use further testing to better understand user preferences. From our initial testing, it was considered faster than opening in a new window, however, it should still accommodate those who prefer to open new tabs while they research so they can compare multiple companies at a time, or review them later. 
Outcome
Based on these findings, I made some revisions and prepped the designs for further testing. Unfortunately, the needs of the business changed, and this project was put on hold indefinitely.
Nonetheless, because this was largely conceptual work, I was able to get some great experience in information architecture and interaction design. Also, because I heavily relied on and referenced our personas when I was generating concepts, I was able to show how personas can be used to inform design decisions.
Email Redesigns
One of the major areas of the business that I worked on while at CareerBuilder was email strategy and design. Even though our email conversion rates exceeded industry standards, the email experience was terribly broken. We consistently received negative feedback from users regarding technological issues (ex. users would unsubscribe, but they would continue to get emails), but there were also some pretty obvious design issues that were not responding to user needs (ex. receiving too many emails, receiving irrelevant emails, inconsistent/disconnected language and messaging, etc.).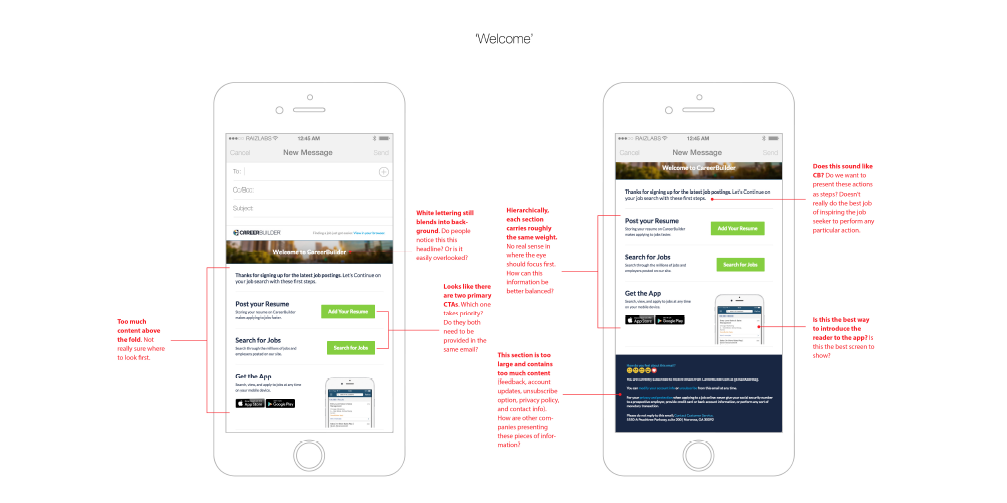 I combed through a lot of our research around some of our key job seeker emails to see if I could pinpoint some areas for improvement. I also conducted a heuristic evaluation, user flow analysis, and competitive analysis. I then put together a list of next steps for improving this segment of the job seeker emails to serve as a reference and jumping off point for future design improvements: 
Email Research Findings Deck
Later on, I used these findings to make UX recommendations and inform some design decisions regarding emails as CareerBuilder worked to redefine their brand architecture strategy. As CareerBuilder acquired more companies, there was an increased need for the business to A) maintain clear communication with all customers and users of the products and B) reinforce the brand values, look, and feel across all products. Part of this undertaking included the rethinking the design of emails.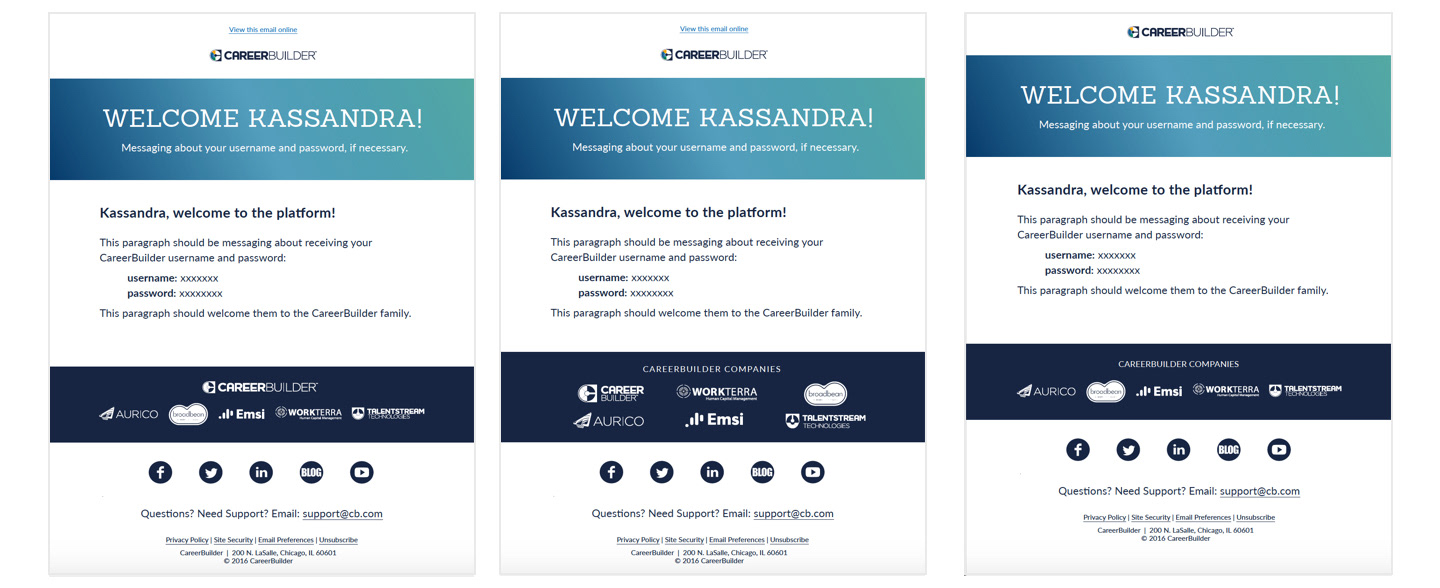 The marketing team created some initial designs and shared them with the Email Team (of which I was a team member) and other key decision makers. I reviewed the designs, made note of UX-related concerns, and provided some actionable recommendations.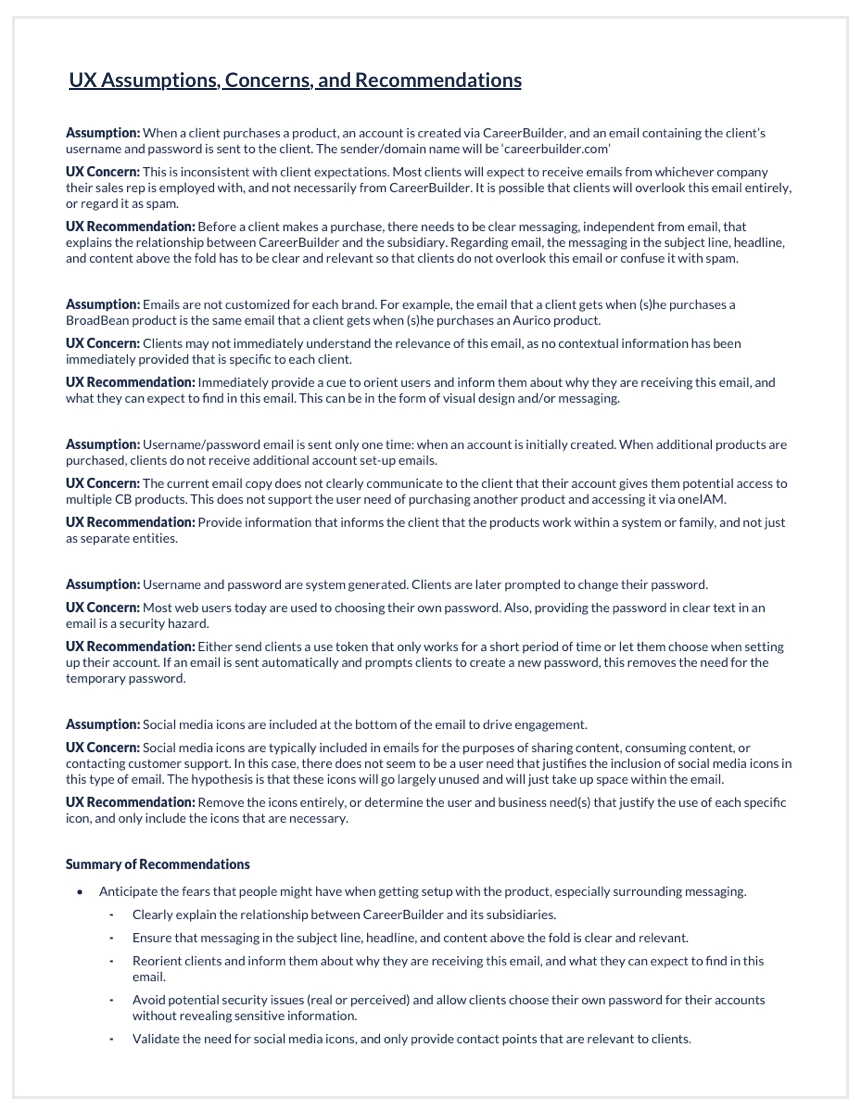 Based on these recommendations, I wireframed some additional design concepts, and created quick mockups so that we could consider some alternatives.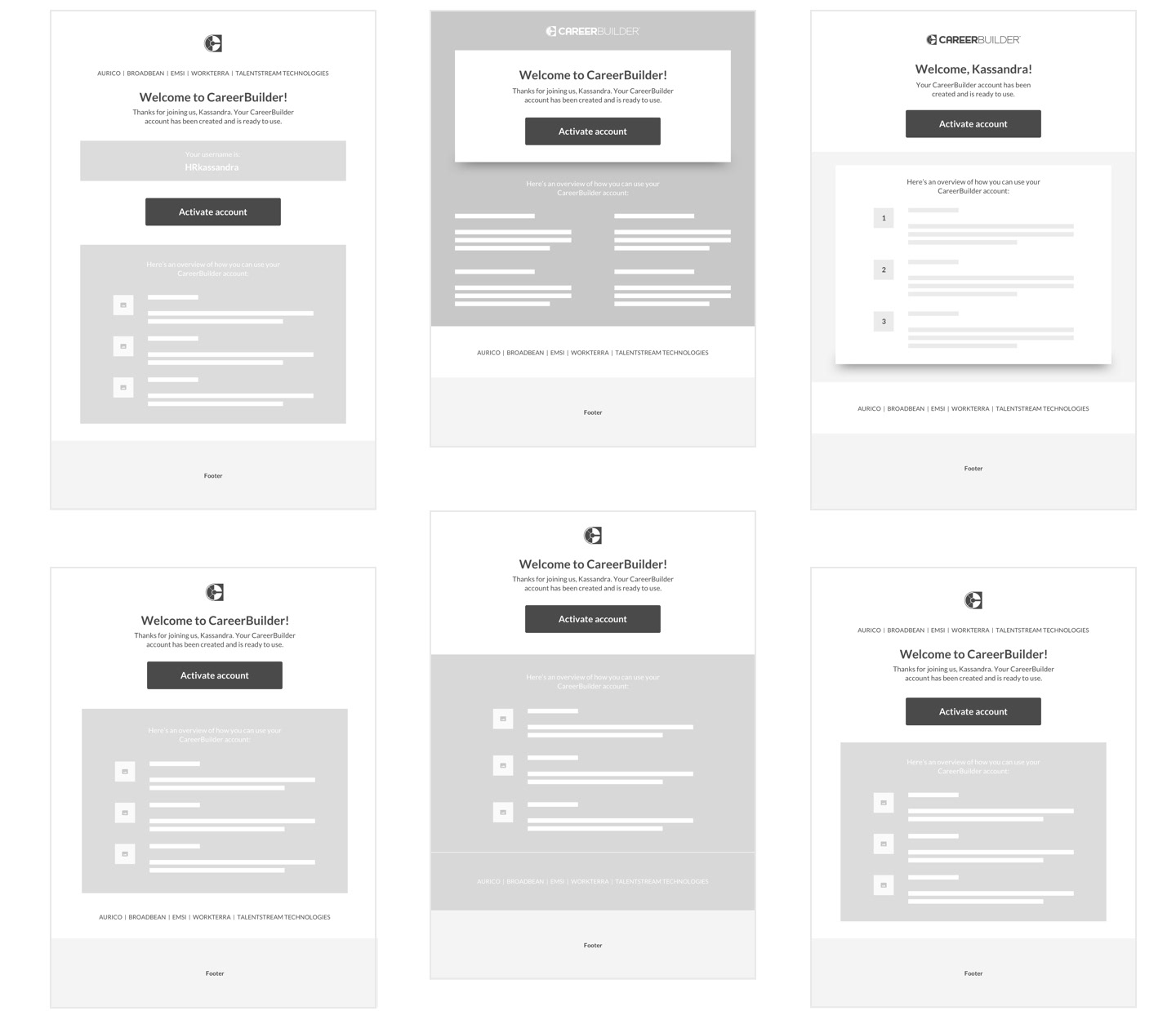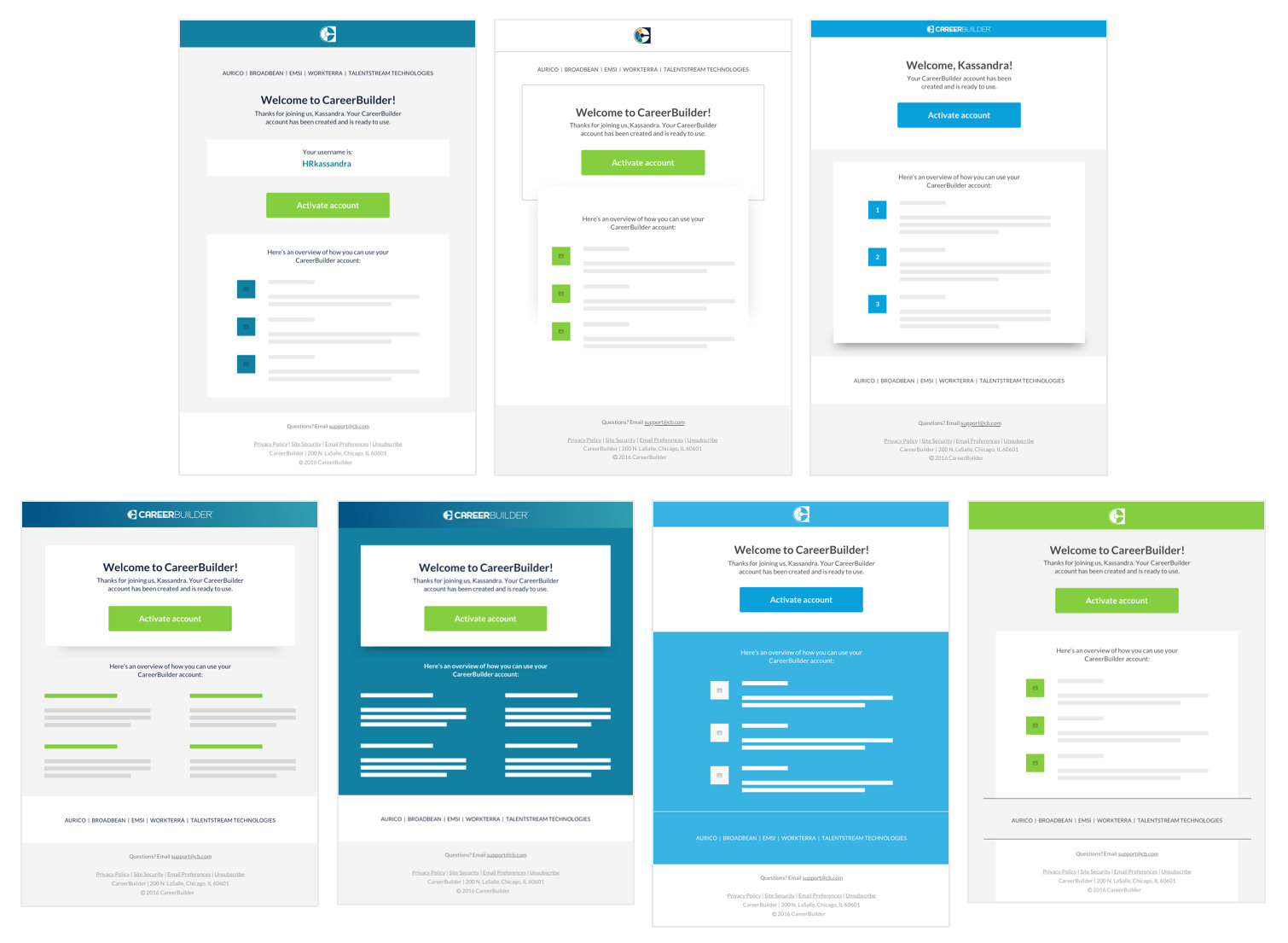 Outcome
Unfortunately, these designs (and my recommendations) were tabled and eventually overruled. There wasn't a clear understanding of who had ownership over these emails and who ultimately
should
have ownership over these emails. We (marketing and UX) were unable to effectively collaborate so that we could make the best decisions to benefit our job seekers, our employers, and the business.
I would have liked to see more effort and care dedicated to this area of the business, especially considering email messaging was our primary form of communication. It would have been great to do some research on the effectiveness of our communication strategies and our brand perception across CareerBuilder as a whole. In fact, I proposed this, but I left the organization before things could really get under way.
Supply & Demand Reporting
Talentstream Supply & Demand's web portal delivers recruitment analytics and insights into both job seekers and market competitors to help employers recruit more effectively in today's marketplace.
I designed the S&D export page, which is a high-level overview of analytics data that offers actionable insights on job seekers and competitors. I went through several iterations, and worked closely with the user researcher assigned to this product to ensure that the most pertinent information was being presented.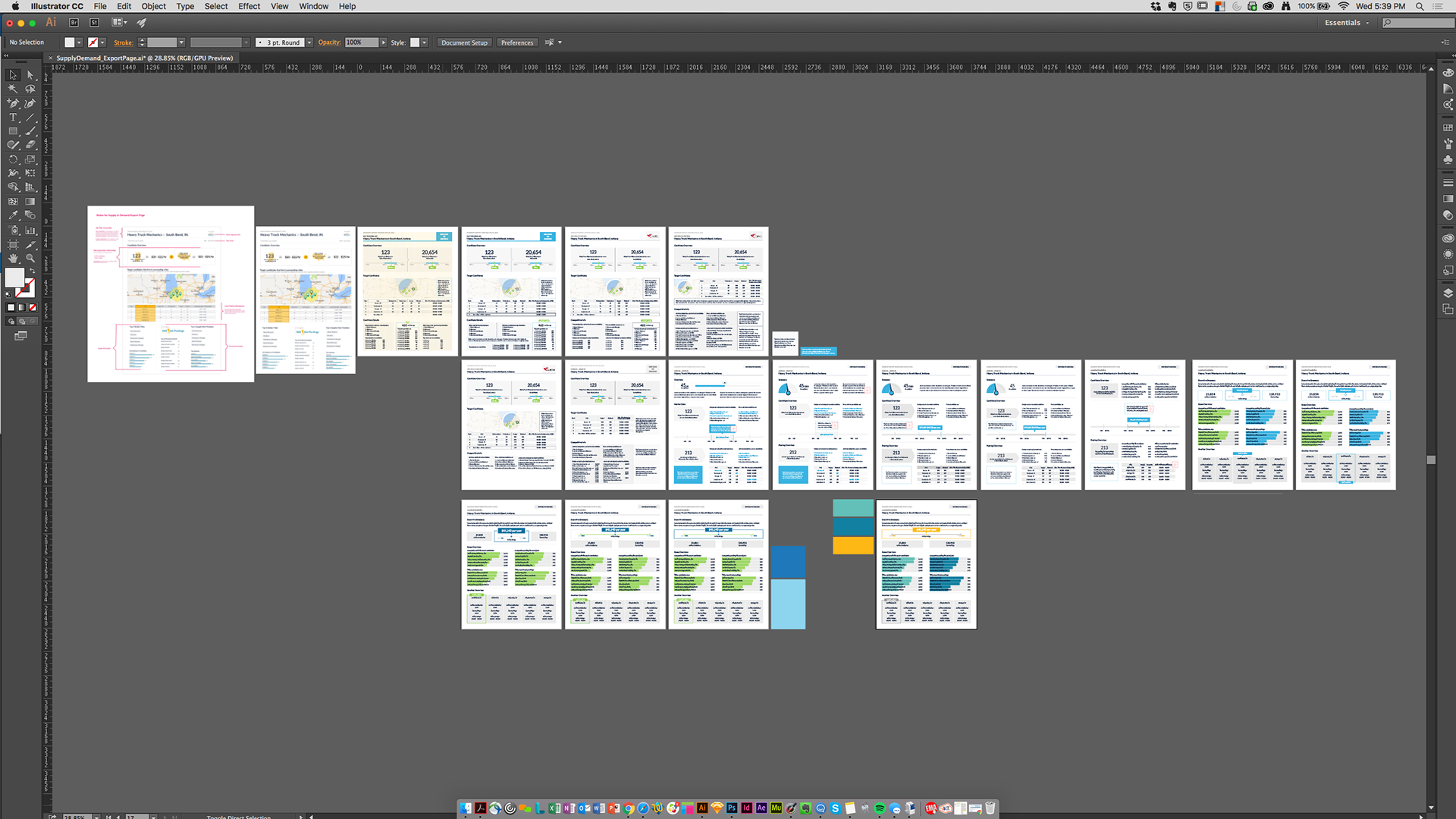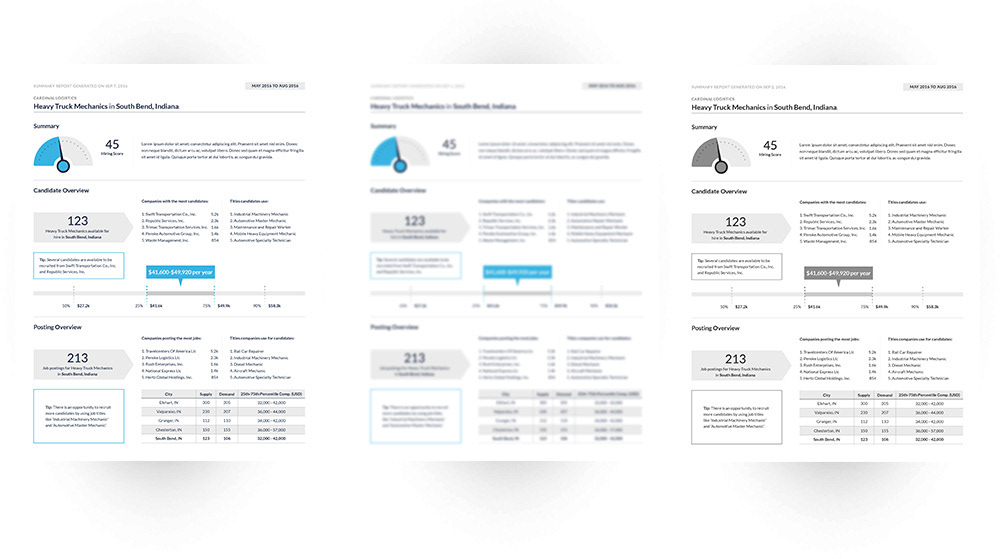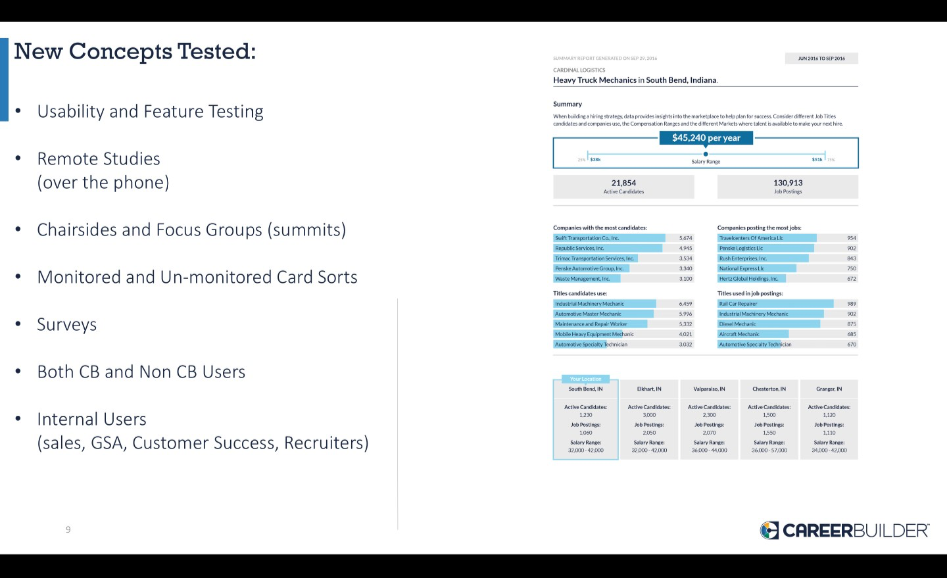 Mobile App Update email
I designed an email to announce new feature updates for the mobile app. Based on some recently conducted user research, we knew that these upcoming features would be particularly appealing to our active job seekers. 
I created several different concepts for the email. I wrote copy and created spot illustrations in order increase our "friendly factor" and help close the gap between us and our users.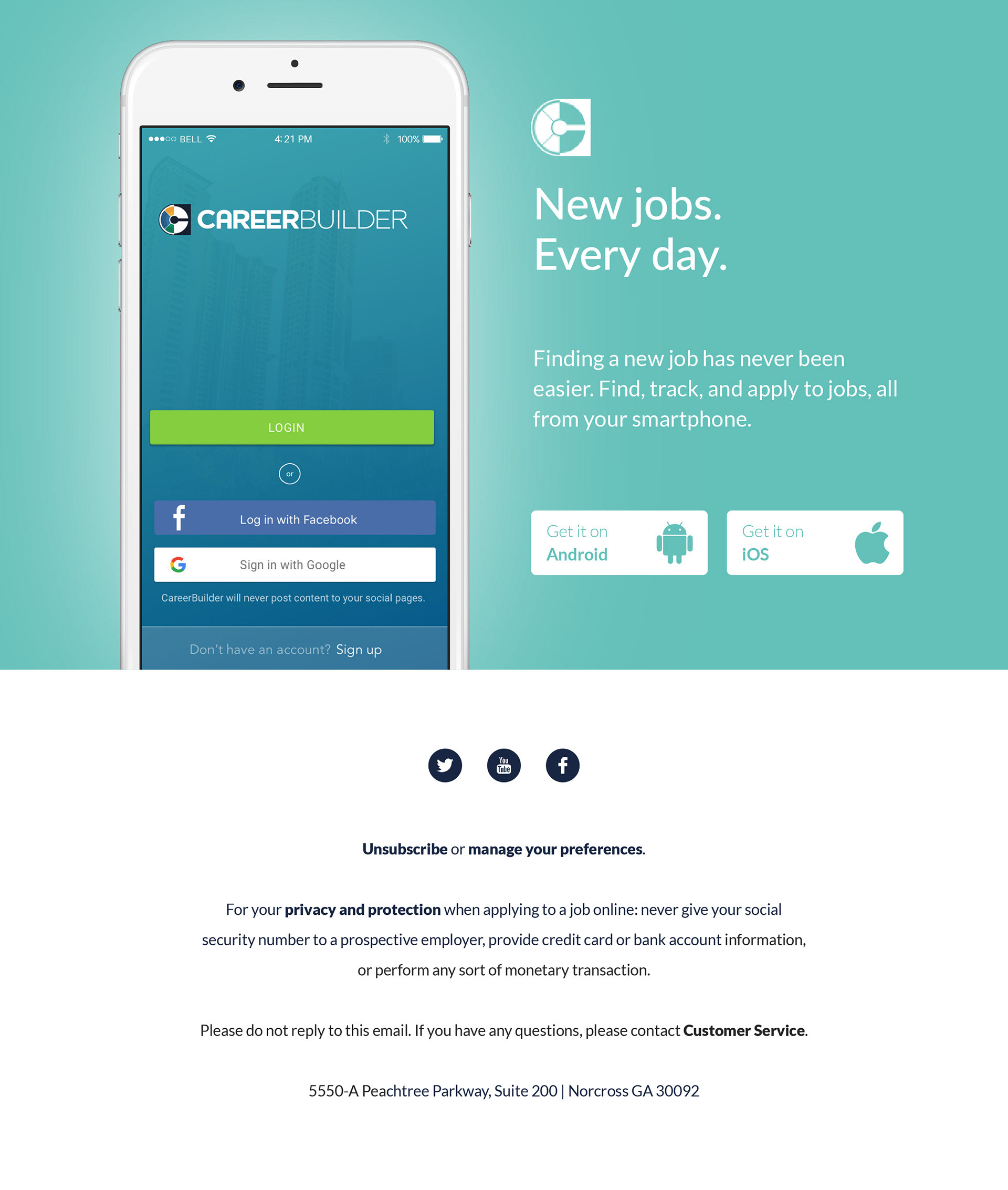 In the end...
...these emails
did
go out, but I have no idea how they performed since I had already left the company by then.