How might we make better use of job seeker and employer data in order to fill communication gaps and improve interactions between these two cohorts?  
Introduction
CareerBuilder is a job search engine and provider of human capital management (HCM) solutions that helps jobseekers find job opportunities and assists businesses in recruiting, hiring, and onboarding talent.
During my time at CareerBuilder, I helped redesign the job seeker mobile app where one of my design improvements led to a 90%+ increase in resume upload conversions over a 3-month period after launch. 
While I initially joined as a visual designer, my role eventually evolved into that of a hybrid designer, and I had the opportunity to contribute to and lead strategy, interaction design, and visual/UI design efforts on several B2B and B2C projects. 
Below is a case study as well as summaries of some of the projects that I worked on.
Case Study: Shaping Product Strategy
Below is a case study on UX evangelism and design strategy. I walk through how we leveraged existing research to create a comprehensive "ecosystem" map,  and how we used this map to help guide short- and mid-term product strategy decisions for the Jobs by CareerBuilder mobile app.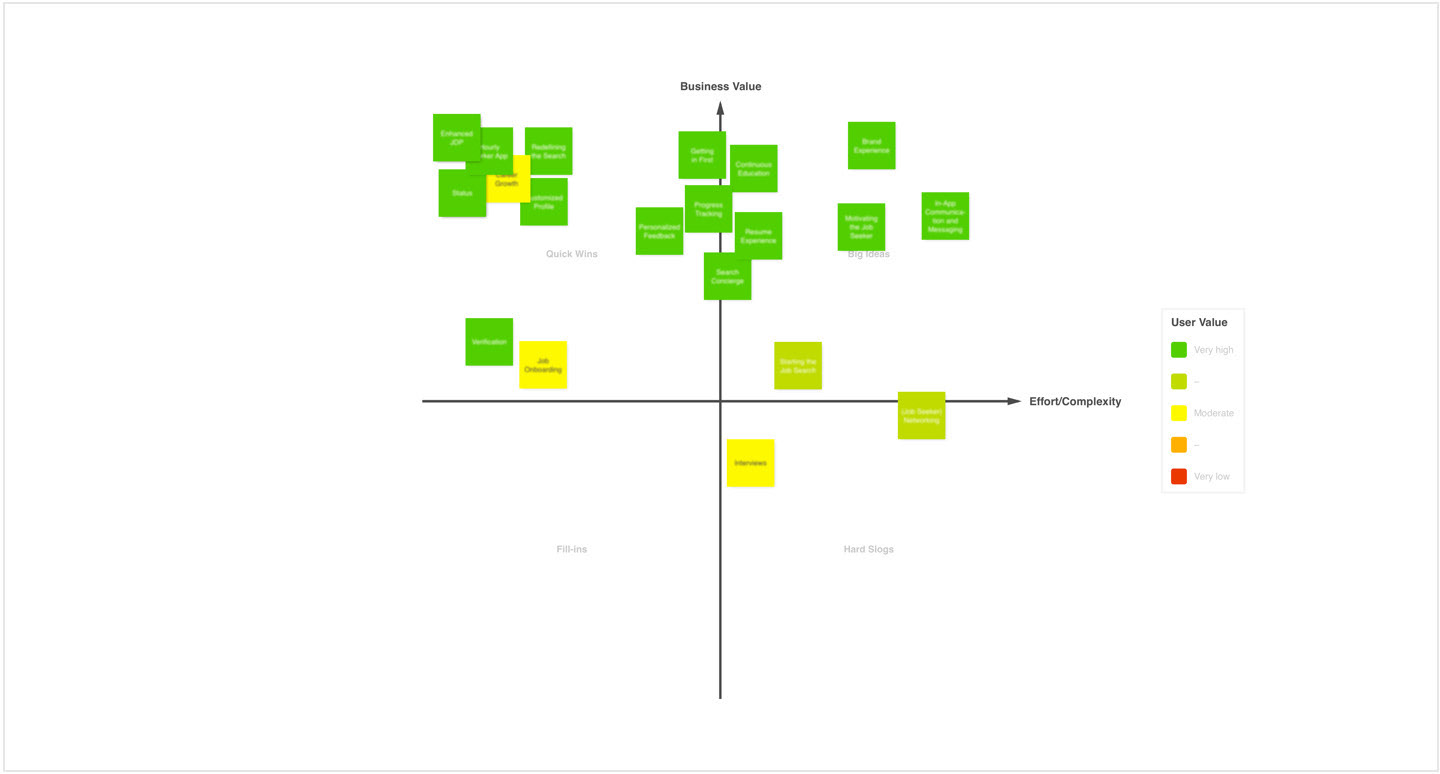 Additional work
1. Jobs by CareerBuilder Mobile App:
 As a member of the Consumer Mobile Apps, designed and successfully launched an MVP by end of Q4 2016. An empty state illustration that I designed resulted in a 92% increase in resume uploads, which was the primary KPI. 
2. Email (re)designs:
Combined findings from heuristic evaluation, user flow analysis,  competitive analysis, and email metrics to make UX recommendations and inform design decisions for job seeker and employer emails.
3. Company Profile Pages:
Leveraged research-based personas to architect and design a page on CareerBuilder.com that allows job seekers to review relevant information about companies, such as company history, open positions, employee perception, financial information, and company culture.
4. Supply & Demand Export Page:
Architected and designed a report export page that delivers recruitment analytics to employers. The purpose of this report was to provide better support to employers in their recruitment efforts, and to help recruiters/account managers speak more confidently with their hiring managers/clients about the job market.
5. Jobs by CareerBuilder Mobile App Update Email:
Designed an email to announce new feature updates for the mobile app. Wrote copy and created spot illustrations in order increase our "friendly factor" and help close the gap between us and job seekers.